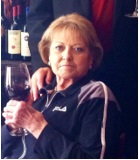 Ruth Ganze, longtime resident of Galveston County, passed away March 26, 2018 in Granbury, Texas. Ruth was born Sept. 4, 1944 in Corsicana, Texas to Odie and Fay Grimes. She was a member of Our Savior Lutheran Church.
Ruth is survived by her husband, Charlie; son, Keith and wife Tammy Ganze of Houston; daughter, Karen Ganze Jennings of Granbury; three grandchildren, Kate and Grant Jennings, and Abigail Ganze.
Funeral Services will be held Monday, April 2, 2018 at 2:00 p.m. in the Crowder Funeral Home chapel at 111 E. Medical Center Blvd. in Webster, Texas. Visitation will be held Sunday evening April 1, 2018 from 6:00 p.m. to 8:00 p.m. at Crowder Funeral Home in Webster. The family will have a private graveside service Tuesday, April 3, 2018 at 2:00 pm on the family plot in Corsicana.
In lieu of flowers, the family has requested memorials be directed to the Arthritis Foundation. The family requests that you kindly enter the acknowledgement information so that we may respond: ganze2@hotmail.com.