Ruth ("Bobbie") Annette Connorty Gehret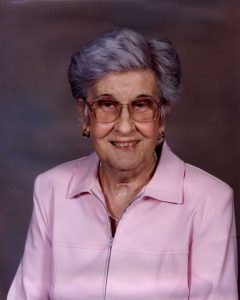 Ruth ("Bobbie") Annette Connorty Gehret, 97, a beloved wife, mother, grandmother, great-grandmother and longtime resident of LaMarque, passed away on Sunday, November 10, 2019, at Regent Care Center of League City. Ruth was born on December 11, 1921 in Galveston and moved to LaMarque in 1952. She retired from Mainland Bank in Texas City in 1984. Ruth faithfully attended Peace Lutheran Church in Texas City since moving to LaMarque in 1952.
Ruth is survived by daughter Paula Gaffey and husband Billy of Dickinson; grandchildren Randy Gehret and wife Donna of Bayou Vista; Steven Gehret and wife Carolyn of League City; Lesa Gaffey, Laura Gaffey, both of League City; Jennifer Gehret Locke of Rockport; seven great-grandchildren, and two great-great grandchildren.
Ruth is preceded in death by her parents, William and Matilda Connorty; her husband of 69 years, Bernett Brooks ("BB") Gehret; nine brothers and sisters; son Eugene Gehret; and great-grandson Mason Curlee.
Visitation will be held at Crowder Funeral Home in Dickinson on Wednesday, November 13, 2019 from 1:00-3:00 with the funeral service to follow beginning at 3:00 with Pastor Matthew Brackman officiating. Graveside services will follow at Hayes Grace Memorial Park in the Mausoleum in Hitchcock.
Pallbearers will be Billy Gaffey, Randy Gehret, Steven Gehret, Mike Savoie, John Cardella, and Jimmy Lehman.
The family would like to sincerely thank the staff at Regent Care Center of League City for the love and care they provided to Ruth throughout her stay.