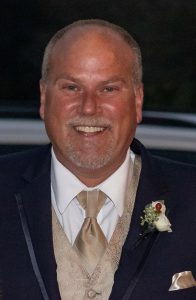 Russell David Mihlbauer 2.6.1965 – 1.12.2022
Born in Kailua Oahu, Hawaii to the union of Russell Darrell Mihlbauer and Shirley Ann Lavern Nash.
Russell served in the Army Reserves and attended McNeese University before starting his 30+ year career at Ineos Chocolate Bayou (Amoco/BP) as the Lab Manager.  I've had the pleasure of hearing the most wonderful stories from his co-workers of the love they have for him.  They say his shoes can never be completely filled.
You could either find him in the garage woodworking, on the water, or on the golf course whooping Raymond and Jaydee's butt!! Thanks to Mike's lessons.
It was such a great joy seeing the love between a son and his mother. He was the light in her beautiful eyes and the protector to his sister.
We were blessed to take many vacations and travel to many states with our daughters. So many wonderful memories and stories we have. Amber eating butter thinking it was cheesecake or Sarah having to be carried back up the Grand Canyon because her little legs were so tired. The most memorable is our first family road trip to WV, with four loud girls, crammed in the backseat playing the alphabet game. His memories will live on as our girls tell his stories and especially his walking through the forest jokes.
He has been greeted in heaven with hugs and kisses by his Maternal Grandparents – Charles and Margaret Nash, Paternal Grandparents – Russell and Alma Mihlbauer, Father-in-Law – Harold George (Butch) Miller Jr, Brother-in-Law – Brian David Miller, The Mother-in-Law he finally gets to meet – Sandra K. Miller, and the Mother of his Beautiful Daughters (Amber and Leigh) – Karen Fay (Roy) Mihlbauer.
Here on this beautiful earth waiting for his hugs and kisses are his Mom – Shirley, Wife of 22 wonderful years – Terri Lynn (Miller) Mihlbauer, Daughters – Amber Nicole Mihlbauer, Darci Lynn Bowler (Samuel), Leigh Ann Mihlbauer (Alyssa), and Sarah Jessica-Marie Bozeman (Fiance Joshua). Sister – Christine Laverne Kidd, Brother – Bryan Wayne Breeden (Beth), Brother-in-Law – Harold George (Buddy) Miller III, Sister-in-Law – Donna Miller.  The Grandsons that could do no wrong in his eyes – Jadyn Russell, Gandon Graylee, Cohen Robert and Samuel James II. Brother from another Mother – Kirk Alan Jackson (Sara). Many Aunts, Uncles, Nieces, Nephews, Cousins and a countless number of extended family and friends.
We would like to thank HCA Clear Lake ER, Heart Tower, CVICU, CVIMU Nurses, as well as Dr. Bruce, Dr. Samman and Dr. Chaugle.
As in life, he is also helping those in his passing, through organ donations.
Russell is being cremated, and his celebration of life will be held on his birthday 2.6.2022. Details to follow.