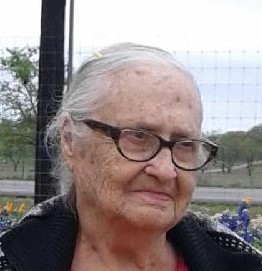 Ruby Leen Allen, 89, resident of League City, Texas, passed from this life on Friday, August 26, 2016 surrounded by her family. Ruby was born in Rusk County, Texas on March 13, 1927 to proud parents, Richard and Fennie Whitehead.
Ruby was a loving wife, mother, grandmother, great grandmother and great great-grandmother. In addition to her own family, she was a foster parent for 40 years to over 100 children. She also enjoyed quilting and gardening. She has been a member of New Hope Baptist Church since 2003.
Ruby was preceded in death by her husband David J. Allen, a son David R. Allen, and by her brother, Clifton Whitehead.
She leaves to cherish her memories, daughter, Deborah Franta, and son James Allen, as well as her grandchildren, Richard Allen, Michael and Nathan Franta, a great grandchild, Jocelynn Franta, and a great great-granddaughter, Braelynn Martin. She also leaves her loving companion Fur Baby, "Daisey".
In her honor a visitation will be held on Monday, August 29, 2016 at Crowder Funeral Home Chapel, in Dickinson from 4:00 to 7:00pm with a funeral service on Tuesday, August 30, 2016 at 2:00pm in the Crowder Chapel.