Rosita Mira y Rosich de Maristany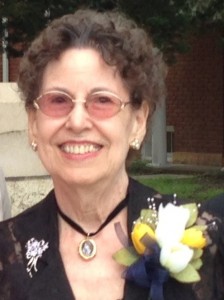 Rosita Mira y Rosich de Maristany, 79, passed away on March 10, 2015 at her home in Houston Texas. She was born in La Habana, Cuba, on September 18, 1935. Her parents were Don Ricardo Mira y Bolívar and Doña Marianela Rosich Pérez.
Rosita is survived by her husband Bernard Antonio Maristany y Costales-González, and her numerous family: 8 children, 26 grandchildren and one great-grandchild. The names of her children are Marianela, Lourdes, Ana, Sofía, Teresa, Cecilia, Bernard and Michael.
She earned a Ph. D. from Louisiana State University (LSU) in Linguistics. She was a Professor at LSU in Baton Rouge, at Rice University in Houston and at Houston University. She spoke Spanish, English, French and Portuguese. She was well versed in the doctrines of the Roman Catholic Church. She taught religion at Parish schools for more than thirty years.
Her family was her life in this world. We all loved her profoundly.
Religious services will be held at Holy Rosary Catholic Church on March 16, 2015, located at 3617 Milam Street, Houston, TX 77002. There will be a Rosary at 2:00 in the afternoon followed by the funeral mass at 3:00. Afterwards, a reception will be held at our home. Internment will occur in Baton Rouge, Louisiana, on March 19, 2015, at Green Oaks cemetery. In lieu of flowers, those wishing to make a memorial donation may do so to the Missionaries of the Poor USA, Inc., at PO Box 29893, Atlanta, GA. 30359.