Rosemary Billie Oliverio Wilson Hayes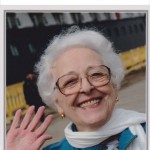 Rosemary Billie Oliverio Wilson Hayes passed away on Oct. 8, 2014 from pancreatic cancer.
Billie is survived by her husband Charles Hayes, two daughters Hope Ann Wilson Berg of Seattle and Faith Ann, one grandson Jake, one sister Mickie White of St. Albans WV, one Uncle Frank Mazzei of Nitro WV, five nephews and numerous cousins.
Billie was born on Nov. 26, 1937 in Nutter Fort (Harrison County), WV, the daughter of the late William Joseph and Virginia Mazzei Oliverio. She was preceded in death in 2005 by her sister Judith Ann Oliverio Hinsdale and in 1969 by her first husband Kenneth Paul Wilson, whom she married in 1959.
She graduated from RW High School, Nutter Fort, WV in 1955, West Virginia University in 1959 and UH Clear Lake in 1987.  She began her teaching career in 1959 at Fairview H.S. in Marion County WV.  She also taught at Victory H.S., Clarksburg, WV, John Handley H.S., Winchester, VA and Pearland H.S., Pearland, TX.  She retired in 1995 after serving as teacher, instructional supervisor and personnel director.
A Visitation will be held on Friday, Oct. 10 from 6pm to 8pm with a Vigil Service at 7pm at Crowder Funeral Home, Webster, TX. Interment will held on a later date with family and close friends at Mt. Olivet Catholic Cemetery. A Memorial Mass will be held on Monday, Oct. 13, at 10am at St Clare of Assisi Catholic Church, 3131 El Dorado Blvd, Houston 77059. Those wishing to make a memorial donation in Rosemary's memory in lieu of flower may do so to a charity of their choice.