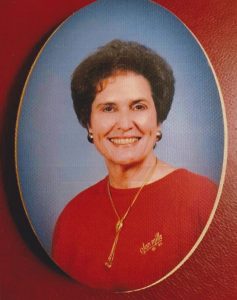 Rosemarie Stanley, 87, passed away on 16 August 2022 in El Lago, Texas. She was born on 4 November 1934, in Baltimore, Maryland, to William, & Matillda Vadas. She is survived by her husband John F Stanley, her Daughter, Kathleen A Lee, and sons, John M. Stanley MD, and Robert W. Stanley, and her brother James Vadas. She also has 8 grandchildren.
She grew up in Sparrows Point, Md. on the outskirts of Baltimore, which was a Bethlehem Steel company town. She went to St. Rita's Catholic High School and graduated with honors. She then worked in downtown Baltimore for Social Security and rode the train an hour and a half each way. In 1953 she went to work for the Intelligence school at Fort Holabird, and worked there till 1957 when she married Mr. John F Stanley and moved to Las Cruces, New Mexico. She then worked at the White Sands Missle Range as secretary for the chief of staff, and the General's office, until her Son, John M Stanley was born on 31 August, 1961. She went on to have a daughter Kathleen A. Lee on 28 September 1962.
She moved with her family to Houston, TX in 1964 when her husband went to work for the NASA. She moved with her family to El Lago in 1965, and had her 3rd child 15 May 1966, Robert W Stanley. A few years later she worked for the water company WCID #50 and then went on to Seabrook Intermediate school as secretary to the principle. She really enjoyed working with the people in the Clear Creek School district, until she retired in 1993. Some of her most enjoyable times during those years was her trips to Europe and beyond with her friends from NASA and the CCISD. She spent a lot of her free time working with the people at St Paul's Catholic church, teaching the children, and visiting the sick with communion.
She enjoyed her later years traveling in the motor home, covered 49 of the 50 states, (could not figure out how to get the motor home to Hawaii). She went from the East coast of Canada to Alaska which pretty much covered all of it. The last few years she has slowed down and stayed home with her husband of 64 years, or being at her daughter's house in the pool, or her sons' houses on the water, eating fish and drinking a Manhattan on the rocks.
A Memorial Mass for Rosemarie will be held Friday, 2 September 2022 at 2:00 PM at St. Paul the Apostle Catholic Church, 18223 Point Lookout Drive, Nassau Bay, Texas 77058.