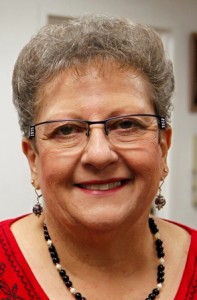 Rose Marie Theiler, 66, longtime resident of Hitchcock, Texas passed away August 31, 2015. She was born November 23, 1948 in Galveston, Texas to parents Joseph Scrofne Sr. and June Scrofne.
She was a member of Our Lady of Lourdes Catholic Church in Hitchcock. Rose Marie worked as the City Secretary of Hitchcock for forty seven years. She was also a Charter member of the Hitchcock Lions Club, the Hitchcock Chamber of Commerce, Santa Fe Fire and Rescue Ladies Auxiliary, and Santa Fe Tops Club.
Rose Marie was preceded in death by her parents and her infant daughter, Loretta Kay Theiler.
She is survived by the love of her life and husband of forty nine years George C. Theiler, and Godchildren, Nicole Van Wagner and Christopher Anderson; sisters, Trish Anderson and husband Tommy, and Dr. Barbara Derrick and husband Mark; brother, Joe A. Scrofne Jr. and wife Carole; nieces and nephews, Heather Derrick, Joey and Michael Scrofne; great nieces and nephews Myles, Sam and Alexandria Scrofne, Megan and Trevor Chance, Trent and Cameron Anderson, Bryce and Gavyn VanWagner, Kayla Derrick and Kyle Derrick-Pena; and special lifelong friends Garry and Nancy Smith.
Visitation will be held from 5 p.m.-7 p.m. with a vigil beginning at 7 p.m. Thursday, September 3, 2015 at Crowder Funeral Home in Dickinson, Texas. Funeral Mass will be held at 11 a.m. Friday, September 4, 2015 at Our Lady of Lourdes Catholic Church in Hitchcock, Texas. Interment will follow at Galveston Memorial Park Cemetery in Hitchcock.
Honored to serve as pallbearers are Garry Smith, Chief John Hamm, Chief Butch Edwards, Billy Scott, Richie Pearson, Jim Cargile. Honorary pallbearers are Joe Scrofne Jr., Frank Theiler Jr., Mark Derrick, Tommy Anderson, Mayor, Commissioners and Employees of the City of Hitchcock, Hitchcock Volunteer Fire Department, Santa Fe Fire Rescue, Galveston County Sheriff Department, HHS Class of 1966.