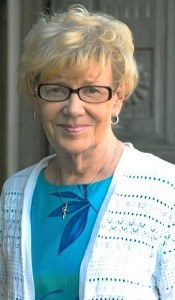 Rose Anne Leaver, a Pearland resident formerly of Slatington, PA, passed away on March 22, 2016. Mrs. Leaver was born December 31, 1942 in Marble Rock, IA.
She is preceded in death by her husband, Theodore H. Leaver Jr., her parents Gila and Leander Merfeld and her brother Ken Merfeld.
Mrs. Leaver leaves behind her daughters: Jozlyn Klettlinger and husband Jerry, Robbyn Clarke, Elizabeth Leaver and Neville Mann; sons: Jason Leaver and wife Cynthia, Christopher Leaver and wife Juanita; 8 grandchildren and numerous great grandchildren; sister, Mary Sadler and husband Fran; brothers: Ray Merfeld and wife Evelyn, Richard Merfeld and wife Rita, Roger Merfeld and wife Edna.
There will be a visitation on Friday, March 25, 2016 from 5-8 pm at Crowder Funeral Home in Pearland. Funeral Service will be held on Saturday, March 26, 2016 at 11am in the chapel of Crowder Funeral Home.