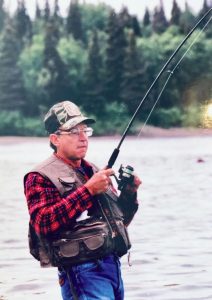 Ronald Joseph Wolny, 83, of Medina, TX passed away March 3, 2022 in San Antonio, TX.  Ron was born February 7, 1939 in Rochester, NY to Frank & Elise Wolny.  He graduated from Irondequoit High School and continued his education at Texas A&M University with a Bachelor of Science and Master of Science degrees in Civil Engineering.  He was a member of the Corps of Cadets, Chi Epsilon honor society, and Tau Beta Pi honor society.
Ron had a long and successful Professional Engineering career with Fluor Daniel which allowed him to travel the world and reside in many countries including Spain, England, Venezuela, and Ecuador.  He enjoyed fishing, hunting, hiking, and watching Aggie sports.
Ron is survived by his wife Ann; son, Russell; son Richard and his wife Shelley; step son Jerry Evans; ; step daughter Elizabeth Price; sister Claire and her husband Claybourne Clarke; sister Catheryn and her husband James Kemp; brother Richard and his wife Kathleen; grandson Harrison Parker; grandson Ryan; and grandson Robert.
A memorial service celebrating his life will be held on Saturday, March 19, 20022 at 2:00 PM at the Crowder Funeral Home, 111 E. Medical Blvd., Webster, TX  77598.  In lieu of flowers, memorial contributions may be made in Ron's memory to the Parkinson's Foundation, (https://www.parkinson.org/ways-to-give) or to the charity of one's choice.