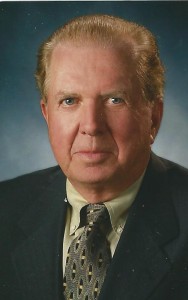 RONALD "DALE" THOMPSON
1937-2015
      Ronald "Dale" Thompson, of Houston, TX, passed away on Friday, February 13,2015 in Texas City, TX at the age of 77. He was born on April 29,1937 in Grand Forks, North Dakota to Raymond and Pearl Thompson. He is survived by his wife Patricia Thompson of Houston, three sons, Terry Thompson and Terri, Steve Thompson and Gregg Thompson, sister Dianne Scruggs, grandchildren Stephanie Hall and DJ, Emily, Caleb, Taylor and Torrie Thompson, one great-grandchild Abigail, nieces Schann Kastendeick and Dave, Kayla Nimmo and Spencer, nephews, Scott Scruggs and Kathy, Kyle Kennedy.
Dale holds Bachelor's and Master's Degrees in Business majoring in Marketing and Economics, respectively, from the University of Houston.
After early experience in finance, insurance, sales and administration, he became a Vice President & Director of Marketing for a national financial services company. He set up its first Marketing Department and carried out various assignments for the President and other corporate executives.
In 1968 he took over his family's small recreational vehicle dealership and developed it into a national leader in RV sales receiving many awards for both sales and service. He founded the first recreational vehicle dealers association in the United States laying the ground for state and national associations.
At the same time Dale established one of the first corporate group insurance agencies in Texas, set up a rental company specializing in RV's and designed one of the first rental leaseback programs in the nation. He also converted a mobile home park into a modern RV campground, later getting a "Good Sam" affiliation nationwide and being awarded an I.C.P.O. (official certification from the Board of Regents of the National Campground Owners Association) for meeting all their requirements.
In the late 80's Dale planned to retire. However, in 1993, he and his son, Gregg, reopened Thompson R.V. until 2005. His passion for the RV industry extended over 40+ years. He was a pioneer in that his business ideals were a model of how RV dealers conduct much of their business today.
In addition to his background in the private sector, Dale had served on active duty in the U.S. Army (General's Aid) and thereafter in the active Reserves (Honorable Discharge as Captain in the U.S. Army.)
A Lifetime Member of the Houston Livestock Show & Rodeo, he served on the Special Children's Committee, Calf Scramble Happy Group, Bay Area Go Texan and Corral Club. He was also active in local charities and community service organizations, especially the Seabrook Rotary Club.
Dale was loved by many and respected by all. His temperament spoke volumes of compassion and honor in his business endeavors as well as his personal life. A man of humility need not prove who he is when others applaud who he was. He will always be remembered as a man of grace.
The family is grateful to Ashton Parke Care Center, A-MED Hospice, and Crowder Funeral Home-League City, TX, for their professional, efficient, compassionate, loving care. A Special Thank You to Audrey and Lorin Lovfald and family for their dear friendship and Reverend Charles Bailey and Tina, long-time friend of the family.
The family will receive friends on Saturday February 21, 2015 at 10:00am with a service of remembrance at 11:00am at Crowder Funeral Home Chapel in League City, TX.
In lieu of flowers, donations can be make to the Alzheimer's Association.