Ronald Charles Salles Sr.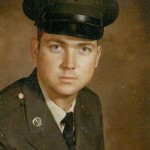 Ronald Charles Salles Sr. 66, longtime resident of Texas City went to be with the Lord on Thursday, June 19, 2014. He was born in Galveston, Texas on December 29, 1947 to Charles G. Salles and Helen C. Lindley. Ronald was a devoted husband and father. He served in the United States Army and was a member of the New Life Fellowship Church.
He is preceded in death by his father; Charles G. Salles, his mother Helen C. and husband Reed Lindley, and his sister; Nancy Hutto. Ronald is survived by his loving wife of 47 years; Linda S. Salles, his daughters; Sheri Honsinger and her husband James, and Helen Engle and her husband Marvin, his son; Ronald Salles, Jr., and his brother Les Salles and his wife Elaine. He also leaves behind to cherish his memory, five granddaughters and one great-grandson.
Visitation will be held on Wednesday, June 25, 2014 from 1:00pm to 2:00pm at the James Crowder Funeral Home in La Marque. A funeral service will begin at 2:00pm with Dr. R.L. Calhoun officiating.