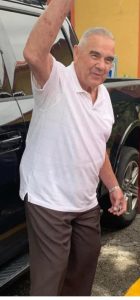 Ronald Charles Hopple, 81, of Clear Lake City, TX passed away on October 23rd, 2022, peacefully in his sleep.  Ronald was born to Charles and Mae Hopple in Harrisburg, PA on March 7th, 1941. He grew up in his hometown of Williamstown, PA, graduating from Williamstown High School in 1959.  While growing up in Williamstown he played football in school and was also an avid hunter and fisherman.
Ron joined the United States Marine Corps right out of high school in 1959.  During his active-duty career, he was Expeditionary Forces into the Congo, a Combat Marine in Vietnam, Marine Detachment Gunnery Sergeant aboard the USS Little Rock, 6th Fleet Flagship ported out of Gaeta, Italy, and numerous other posts until 1970.  During his post to Trinidad, British West Indies, Ron met and married the love of his life, Madge Carter in 1962 and later had two sons, Duane and Christopher.
While serving in Vietnam, Ron received the Purple Heart after being injured in combat.  He received numerous medals, ribbons, and citations during his distinguished Marine career. After leaving active duty, he continued as a Marine Reservist based out of Philadelphia Naval Yard, Philadelphia, PA for about 8 years.
After leaving the Marines, Ron joined Gulf Oil in Philadelphia, PA in 1970, starting his next career in the oil industry. His oil career took off, taking him and the family overseas once again, to Saudi Arabia with Arabian American Oil Company (ARAMCO) where he was a Supervisor at Berri NGL gas plant.  After leaving ARAMCO, he returned to the United States with his family.  Ron became a Commissioning/Decommissioning Specialist for such companies as KBR, Haliburton, and many others which once again had him travelling the world until he retired in 2012.
While living in Clear Lake City, TX, Ron joined the Knights of Columbus St. Bernadette Council 10959.  Ron became a 4th Degree Knight and was a charter member of Fr. Titus Brandsma Assembly 2772.  He served as Commander of the 4th Degree for many years as well as held the office of Trustee.  He later moved to Mary Queen Council 8494.  As a Knight of Columbus, Ron served on many committees for both the Council and Assembly.
Ronald is preceded in death by his parents Charles and Mae Hopple.  Ronald is survived by his loving wife of 60 years Madge Hopple; son Duane Hopple and his wife Keri; son Christopher Hopple and his wife Laurie; and grandson Seth Hopple.
Semper Fidelis "Gunny"
There will be a visitation and rosary from 5:00 p.m. to 8:00 p.m. at Crowder Funeral Home 111 E. Medical Center Boulevard, Webster, TX 77598 on Thursday, November 3rd, 2022.  A Mass will take place at 10:00 a.m. at Mary Queen Catholic Church 606 Cedarwood Drive, Friendswood, TX 77546 on Friday, November 4th, 2022.  Immediately following the Mass there will be a reception in the Parish Center.
In lieu of flowers, donations may be made in Ron's name to the Wounded Warrior Project or to Wreaths Across America Houston.