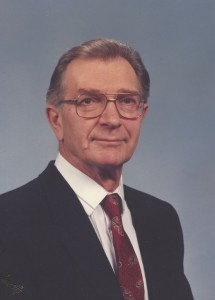 Roland Libers, 88, of Dickinson, Texas, passed away October 14, 2015.  Roland was born March 19, 1927 in Latvia, the second son of Tatjana and Karlis Libers.  His older brother died as a youth.  The family fled Latvia for Germany prior to the Soviet occupation in WWII.  They lived in a Displaced Persons camp in Esslingen, Germany along with other Latvian refugees.  While living there Roland took equivalency courses to complete his high school education.  That is also where he met fellow Latvian Edith Stiprais, whom he would marry in 1948.  At the time they were married, Roland was serving in the US Army Labor Service, a program to augment the post-war armed services with other nationalities.
Roland, Edith, Tatjana, and Karlis immigrated to the USA on US Navy ships in 1950, locating in the Minneapolis-St. Paul area.  Roland attended Macalester College in St. Paul and the University of Minnesota, obtaining a PhD in Chemistry.  Most of his career as a chemist was with Monsanto and he achieved several patents for his work.  When he retired from Monsanto, he worked as contract labor to other chemical companies in the Houston-Galveston area.
Roland and Edith lived in Minneapolis-St. Paul, El Dorado, Arkansas and St. Louis, Missouri before finally settling in Dickinson, Texas in the late 1960s.  They enjoyed the quiet street in Dickinson where they lived for the rest of their lives.  They were active members of Faith Lutheran Church, and enjoyed traveling, gardening, museums and the arts, especially classical music. Edith preceded Roland in 2012.
Roland is survived by many close friends.  Thanks to Josie Zepeda at Casa De Amore where he resided for her loving care of Roland.
A service in Roland's honor will be held 11:00 am, Tuesday, October 27, 2015 with visitation between 10:00–11:00am, at Faith Lutheran Church, Dickinson, Texas. Interment follows at Mt. Olivet Catholic Cemetery, Dickinson, Texas. Arrangements through Crowder Funeral Home, Dickinson, Texas.
In lieu of flowers donations may be made to The American Latvian Association  http://www.alausa.org/en/ or the Latvian Relief Fund of America http://www.lrfa.org/