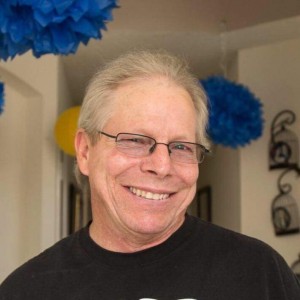 Roger P. Reed, 60, of Santa Fe, Texas passed from this life on September 26, 2015. Roger was born October 13, 1954 to John and Gloria Reed in LaMarque, Texas.  Roger was raised in La Marque and attended LM schools and lived in Galveston County all his life. Roger previously worked for Gulf Chemical and Metallurgical in Texas City. The plant shut down and Roger made his living in construction for various chemical plants and was most recently employed by Pasadena Tank Co. in Harris County.
Roger enjoyed impromptu camping trips and overnighters at the Texas City Dike. He loved to fish, riding his motorcycle and going to Galveston and surrounding counties to see different country music groups perform.  His favorite Austin music is by Jerry Jeff Walker, and Gary P. Nunn.  The thing he loved most was spending time with his children, grandchildren and his dog Sadie.  Roger has touched so many people from all walks of life; he touched them with a warm smile, a kind heart, and a gentle soul.
Roger was preceded in death by his parents; brother, Kenneth Reed; and sister-in-law, Gretchen Reed.
Roger is survived by his daughter Rachel (and Tim) Eddins of McKinney, TX; son Michael (and Molly) Reed of Corinth, TX; sister, Nancy (and Alan) of Santa Fe, TX; brothers, John Reed Jr of Edmonds, WA, Michael (and Barbara) Reed of Margate, FL, Jerry (and Emily) of Dickinson, TX, and Ronnie (and Vickie) Reed of LaMarque, TX; grandchildren, Forrest Reed, and Sawyer Eddins; his aunts and uncles; many nieces and nephews; and his sweet dog, Sadie.
A visitation will be held Friday, October 2, 2015 from 6:00-8:00 pm, Crowder Funeral Home Chapel, Dickinson, TX. Funeral Services are scheduled for 10:00 am, Saturday, October 3rd, Crowder Funeral Home Chapel, with interment following at Hayes Grace Memorial Park, Hitchcock, Texas.
Pall Bearers will be brothers and friends.