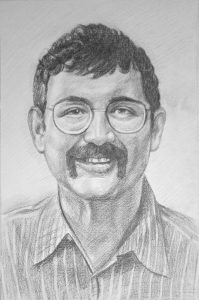 Roger Kent Vice, 72, a resident of Manvel, TX, formerly of Crosby, TX passed away from cancer September 27, 2022, in Houston, TX. He was born in Salt Lake City, UT, on September 7, 1950, and was of the Christian faith. He graduated from Idaho State University in 1974 with a BS in Parks and Recreation. Roger served in the Idaho Army National Guard.
An avid snow skier, he worked at Bogus Basin Ski Area for 19 years and helped develop their night skiing program in addition to serving as a Wildland Fire Investigator for the Bureau of Land Management in Boise in the summers.
He loved riding horses in the Sawtooth Mountains with Coach Everts, whitewater kayaking in the rivers in the Great Northwest, operating a horse/mule pack string out of Grandjean Idaho, bird hunting at Lake Lowell, fishing on Lake Cascade, big game fishing in the Gulf of Mexico with his family and friends, elk and deer hunting in the Rocky Mountains, reloading his ammo for the next big hunt, building furniture in his woodshop, two months of salmon fishing in Oregon each year, riding his UTV through the Arizona desert with his friends in Salome AZ, camping with his family in Texas, deer hunting on his son's ranch in South Texas, and living on his 45 acres outside of Houston. He mixed work and recreation better than anyone we know.
He was a devoted husband, loving Dad, and the greatest Grandpa. Every chance possible he would load up his grandchildren in the truck or motorhome and delight them with interesting activities and adventures.
He is survived by his wife of 50 years, Patricia Murray Vice, his son Ryan Vice and wife Jodie, and his daughter, Jennifer Stark and husband Brett, and five grandchildren: Bailey Lawson, Skyla Vice, Kaylee Lawson, Ryker Vice, and Izzy Stark; sister, Tina Vice; and brother, Richard Amos.
He was preceded in death by his father Matthew Vice, mother Dora Oliver Sorenson, grandparents Benny and Lola Vice, and birth mother Elizabeth Joyce Webster.
Roger had a long two-year battle with cancer. In lieu of flowers, the family would like donations to be sent to a favorite cancer charity of your choice.
We will miss Roger's zest for life and pushing us forward to the next new challenge. Celebrations of Life will be conducted in Houston. Boise, Idaho and Newport, Oregon in May/June 2023.