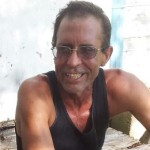 Roger Cambiano died suddenly in a tragic work accident in Galveston on Thursday, October 23, 2014. Roger was born at Danforth Memorial Hospital to Joseph Dominic Cambiano and Ethel Marie Grainer on August 6, 1963. He grew up in Texas City, lived several years in Diboll, Texas working for Temple Industries before returning to Texas City to stay.
He was a journeyman electrician, carpenter, mechanic, and an absolute jack of all trades. There wasn't much he couldn't make with wood or fix. Roger was a willing soul who would help anyone with anything-anytime, and was called upon often by friends and family. He loved people-never met a stranger and would talk for hours to anyone willing to listen-or not.
Roger's mother Ethel Marie Grainer preceded him in death. He leaves, to cherish many wonderful memories, a large family: his wife; Rita Cambiano of Diboll, TX, his children; Nicholl Johannessen (Charlie) of San Leon, Chloe McCrary of Cyprus, Savannah Cambiano (Jeremy) of Columbia, SC, and Nina Cambiano of Huntington, TX, his parents; Joe and Wilma Cambiano of Texas City, his sisters; Patricia Anderson (David) of Brookshire, TX, Debora Wagner (Donnie) of Webster, TX, Sheila Cambiano, and Sandra O'Day, Sharon Egolinsky of Texas City, his brothers; Kenneth Cambiano (Kathy) of Texas City, Ronald Cambiano (Anna) of Dickinson, Jeffrey Cambiano (Emily) of Texas City, and Stephen Cambiano of League City, along with several grandchildren, nieces and nephews, aunts, uncles, and many friends.
A memorial visitation will be at James Crowder Funeral Home in La Marque, Monday, October 27, 2014 from 5:00pm to 8:00pm with a memorial service starting at 7:00pm, with Deacon Joe Hensley officiating.
As per Rogers wishes he will be cremated and his ashes will be thrown to the winds and waters that he loved so much.