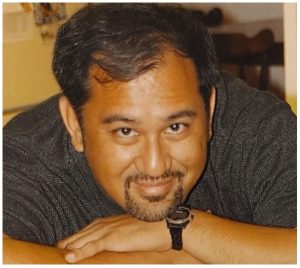 Rod Nieto, who was born on September 10th, 1962 in Honolulu, Hawaii to Rodrigo R. Nieto and Josefa R. Nieto, passed away on October 22nd, 2022 in Friendswood, Texas.  Rod was loved as a son, brother, uncle and husband.  He is survived by:  his wife, Mary Matuszko; father Rodrigo Nieto; brother, Joel Nieto; nephew Daniel Nieto; sister, Glenda Ensley; nieces, Iliana Ensley and Mia Ensley and numerous family members and friends.
As the eldest of his siblings Joel and Glenda, Rod became the man of the house growing up during the times when his father needed to be away from home for his Navy and post-military careers.  He was like a second father to Glenda as she grew up, caring for her, along with being 10 years her senior.
After moving around between Hawaii, California, Florida, Italy and Virginia, his family settled in Kingsville, Texas when his dad retired from the Navy.  Rod spent his high school and college years there, graduating a year early from high school, and then earning a Bachelor of Science degree in Electrical Engineering with a Minor in Computer Science from Texas A&I University there in Kingsville.  During this time he met some of his long time close friends, with whom he played football and various board games and role-playing games.
NASA and the space program proved to be of particular interest to Rod, it excited him.  So upon finishing school, Rod took a position with Unisys Corporation supporting the Space Shuttle program in Houston, Texas developing simulation software for astronaut crew training.  That started a rich, lengthy career in the space industry at the Johnson Space Center.  Rod then changed companies to CAE/Link (now Raytheon), where his job included supporting the International Space Station simulator as well as Shuttle.  Teledyne Brown Engineering saw the great ISS work Rod did and asked him to join them, writing software to train crew members on specific payloads.
Although Rod loved his work, he also believed there is more to life than simply toiling away, so he retired in 2014.  He wanted to enjoy 'the sweet life', spending time with his family and friends as well as traveling with his wife Mary.
Rod loved going places.  In the late 1980s he and his brother and sister took a whirlwind road trip of 10 states in 10 days through the Mountain time zone, where they saw many of the country's most famous western landmarks.  He took several trips over the years to visit extended family in the Phillipines with his parents and siblings.  He also went on a number of vacations with Mary and her college friends to different places in Europe, the Caribbean, New Zealand and Alaska.  Cruising was a favorite form of travel for him; he really enjoyed the ability to visit so many ports and having so much to see and explore there.
Rod and Mary took many trips in recent years to visit Renaissance Festivals around the country.  He adored going to these events, even bringing several renfest costumes he would wear, which he received many compliments on, people wanting to take photos with him and telling him how sharp he looked as a musketeer.
He carried his interest of football into his adult life, each Sunday being glued to the television set watching his beloved Dallas Cowboys play.  He would even exchange banter with those of us who are fans of other NFC East teams when they would play each other.
That vivid imagination of his and ability to think outside the box were present in so much of what Rod did.  He had great enthusiasm for role-playing games.  The past several years or so had him collecting game board pieces and miniatures (which he also painted), and even building his own diorama sets to play the games on.  The desire to put his best friends in precarious situations during these adventures was also Rod's calling card, as he would take on the role of Game Master for the games they played.  Rod also had a gift for writing, which he also really enjoyed, penning many short stories and even a novel.
Video games were a passion of Rod's as well; he started playing on an Apple II+ while still in school, which then lead to a life of insatiable video gaming on computers and consoles.  He was also eager to see the latest new movies, particularly action films.  Plus his interest in movies included fan films that he found on the internet, notably ones relating to "Star Trek".  And, of course, along with his other varied interests, who could forget his love of '80s rock music?  Rod was a special soul that will be missed dearly.  May he rest in peace.
A viewing will be held at 5:00 PM on Thursday, November 17, 2022, with the memorial service following at 6:00 PM, at the Crowder Funeral Home, 111 E Medical Center Blvd, Webster, TX 77598.  Donations in lieu of flowers can be made to The America Heart Association (https://www.heart.org) or the American Diabetes Association (https://diabetes.org/).