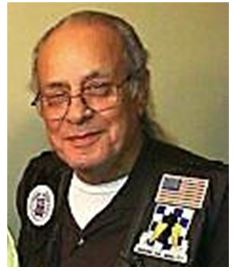 Roberto Ontiveros Sr., a U.S. Army Veteran and retired U.S. Postal Mail handler, succumbed from a long-term illness on March 7, 2023, in League City, TX at the age of 86 years old. He is survived by his loving wife Irene Ontiveros of League City, Texas and is proceeded in death by his parents the late Estela and Hignio Ontiveroz.
Early in his life, Roberto was educated in the Houston City public schools and at the age of 17, he enlisted and served in the U.S. Regular Army (1954-56); U.S. Army Reserve (1956-57); U.S. Air Force (1957-61); U.S. Air Force Reserve (1961-62); U.S. Navy Reserve (1962) and again in the U.S. Regular Army (1962-75), retiring at the rank of Sergeant First Class, with over 22 years of military service.
Serving in the military, Roberto was trained in many duty positions, which included Military Radar Operator; Air Traffic Control Operator; Flight Operations Coordinator; Helicopter Flight Operations Sergeant; Helicopter Door Gunner; and Airborne Paratrooper. During his military career, he was stationed in many stateside assignments, including Keesler AFB; MS, Lackland AFB, TX; Fort Bliss, TX; Fort Polk, LA; Lowry AFB, CO; Fort Walters, TX; Fort Bragg, NC; Fort Rucker, AL; Fort Leonard Wood, MO; Fort Ord, CA; and overseas assignments in the Republic of Germany; Dominican Republic; Okinawa Japan, the Republic of the Philippines islands; highlighted by and two separate combat tours in the Republic of Vietnam, while assigned to the 173rd Airborne Brigade (1965-66) and the 4th Infantry Division (1968-69), respectively. Roberto received numerous awards throughout his military career, including the Bronze Star Medal, the Air Medal, the Meritorious Service Medal, the National Defense Service Medal; the Army of Occupation Medal-Germany, the Republic of Vietnam Campaign Medal, and the Vietnam Service Medal. While serving in the Army, he also continued his formal education towards a Degree in Psychology. Upon his retirement from the military, he worked an additional twenty-four years for the United States Postal Service, ultimately retiring in 1998, culminating over 46 years of federal government service.
Roberto enjoyed reading novels, watching old western movies, cooking, working on cars, riding motorcycles, collecting rare coins, men's jewelry, Stacy Adams shoes, traveling, and especially loved going to casinos. He was also a lifetime member of many military veteran organizations, such as the Veterans of Foreign Wars, the American Legion & American Legion riders, the 173rd Airborne Brigade "Casper Aviation Platoon" association, and the 82nd Airborne Division Association, Lone Star Chapter.
Roberto was united in holy matrimony to the former Ms. Irene Vela Castillo for over sixty-five years. Their courtship began when he saw her in their neighborhood and immediately fell in love. Out of this union, they were blessed with three loving children, five grandchildren, and two great-grandsons. To them, he was simply known as "PoPo".
Roberto will mostly be remembered for his wisdom, self-determination, and one-of-a-kind attitude. He often jokingly said, "Don't worry about it, I'll take care of it Irene…"
Memories of Roberto will be cherished by his devoted and loving Wife Irene Castillo Ontiveros; Daughters Renée Ontiveros Sanders (husband Bill) and Lorraine Christine Ontiveros; Son Roberto Ontiveros Jr. (wife Sharon); Granddaughter Brittany Harris (husband Simeon); Grandsons James Nieves, Jason Nieves, Brandon Sanders, and Armand Ontiveros; Great-Grandsons Beau and Cruz Harris. He is also survived by his loving sister Julieta Rodriguez; Brothers Ivan Ontiveros (wife Matilda) and Gustavo O. Perez (wife Kyle); Brother-in-law Jasper Castillo (wife Dora); several nieces, nephews, other relatives; and his beloved fellow paratroopers, whom he always considered part of his family.
In his honor, visitation will be from 6-8:00 PM, Wednesday, March 15, 2023, followed by a rosary. Funeral services will be 10:00 AM, Thursday, March 16th, 2023, at Crowder Funeral Home Webster/Clear Lake, 111 East Medical Center Boulevard, Webster, TX 77598, followed by Private burial with full military honors at the Houston National Cemetery.
If desired, the family request that donations be made to the American Diabetes Association at diabetes.org or Wounded Warrior Project at www.woundedwarriorproject.org
Old soldiers never die; they just fade away…