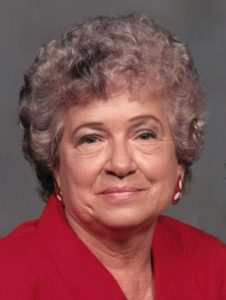 Roberta Benson, 92, passed away peacefully at home, surrounded by her kids, on Saturday, January 16, 2021.
Roberta was a BOI, born on March 8, 1928, at St. Mary's hospital in Galveston.   She was born to Emil & Cecile Hampf, & grew up in Galveston, always telling stories of her & her sister Pat, having to work weekends, cleaning tables at Hampf's Biegarten, which her grandparents owned & operated in their backyard, on 21st & Ave. O, in Galveston.
Roberta was an accomplished & well known accordion player, in her young & teenage years, winning many competitions.
She met the love of her life, Clarence Benson, also a BOI, when she was in high school at Ball High. They married on November 30, 1948. Clarence enlisted in the United States Marine Corp. They lived in San Francisco for a couple of years, where Clarence was stationed. Upon his discharge, they moved back to Galveston.
Their first two children, Clay & Jami, were born in Galveston, & then they moved to Texas City, where Stephanie, Carin, & Lisa were born.  She was a stay at home mom for her five kids, always cooking a big dinner every evening, & on Sunday, a big lunch for her family of seven.
Roberta went to work at city hall, in the vital statistics department, once all the kids were grown.
In 1983, she & Clarence opened up Benny's Liquor, which they owned for 35 years. It was a true family business, with all their kids, & most of the grandkids, working there. She was affectionately known as "Mrs. Benny".
She always supported, & went to, all the sports her kids were involved in, throughout the years, even going to her grandkids' sporting events.
Roberta & Clarence loved to dance, & now are dancing in each other's arms , to the Big Band music they loved so much.
Roberta & Clarence loved to travel, & especially loved following University of Houston football. They took many cruises, as well as trips to Mexico, San Francisco, & New York, & the list goes on.
Her favorite pastime was going to Las Vegas, then Lake Charles.  She made many trips to Las Vegas with her daughter, Jami, for over 25 years. They also went to Chicago, Lake Tahoe, & San Francisco, as well as frequent trips to the casinos in Lake Charles, where she loved the slot machines, up until last year. She also enjoyed numerous bus trips to the casinos with her group of retirees. She enjoyed several other trips with her other daughters, Stephanie, Carin, & Lisa, to Nashville, to watch the Titans play, as well as to San Antonio with them, & some of the grandkids. She was able to travel so frequently, thanks to her son, Clay, who always took care of her home, & her beloved pets, Roscoe & Bert.
Roberta is preceded in death by her parents, Emil & Cecile Hampf. She is also preceded in death by her beloved "CW", Clarence Benson, to whom she was married almost 63 years, before his passing.
She is survived by her son, Clay, her daughters & sons in law, Jami & Kenneth Clark, Stephanie & David DeVasier, Carin Gibbons, & Lisa & Robert Lopez.  Also survived by her grandchildren, Justin Benson, Celeste Benson, Brian & Stacee Clark, Jason & Tiffany Clark, Robbie & Kristen Dee, Kyle DeVasier, Chris DeVasier & Brittany Russell, Tiffany & Matt Walker, Amanda & Anthony Jensen, & Jacob Lopez. Also by her great grandchildren, Alyssa & Zane Clark, Addisen & Hailey Clark, Rylan & Kasen Dee, Emma DeVasier, Seth Tassin, Kade & Kinsley Walker, Ava & Abigale Jensen, & Zaylen Lopez. Also survived by her only sister Pat Isbell, her niece & nephews, Terri, Scott, & Tom, as well as her sister in law, Karen LeBlanc.
Pallbearers will be Clay Benson, Kenneth Clark, David DeVasier, Brian Clark, Jason Clark, & Robbie Dee. Honorary pallbearers will be Kyle DeVasier, Chris DeVasier, Jacob Lopez, & Rylan Dee.
Donations may be made to Our Lady of Fatima School, Hospice, or a charity of your choice.
T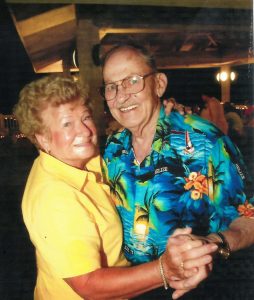 he family would like to thank Susan, Leshette, Tiffany, & Suzanne, from A*Med Hospice, for their tremendous support & compassion, & the wonderful care they gave our mother.  We will be forever grateful.
A visitation will be held from 5:00pm to 7:00pm, Monday, January 18, 2021, at James Crowder Funeral Home, La Marque.  A service will be held at 10:00am Tuesday, January 19, 2021, at St. Mary of the Miraculous Medal Catholic Church, with Father Clint Ressler officiating.   Interment of her ashes will be at a later date, next to her husband Clarence, at the Houston National Cemetery.