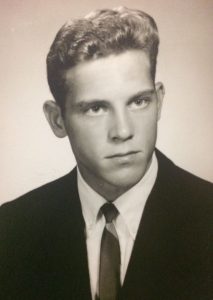 Robert "Wayne" Stanley, 67, of La Marque passed away Sunday, February 26, 2017 at Bayou Pines Care Center in La Marque, Texas.
Wayne was born in Galveston, Texas on October 16, 1949 to Carroll and Dorothy Stanley. He was a lifelong resident of La Marque.  He graduated from La Marque High School in 1969.  Wayne worked for ANCO Plumbing and was a member of Plumbers Local Union #68.
Wayne is preceded in death by his parents. He is survived by his former wife, Janis Stanley of Texas City, daughter and son-in-law Melissa and Mike Girouard of League City, son Bryan Stanley of Texas City and four grandchildren: Tanner Girouard, Adelynn Girouard, Tyler Stanley and Austin Stanley; his two brothers and sisters-in-law; Larry and Sharon Stanley and Dicky and Donna Stanley; his niece Julie Stanley Dickman and his two nephews Allan Stanley and John Stanley.
A Memorial Service will be held Sunday, March 5, 2017 at 5:00pm at the James Crowder Funeral Home in La Marque with Dr. Terry Ray, officiating.
The family request memorials to be sent to the American Cancer Society or the charity of your choice.