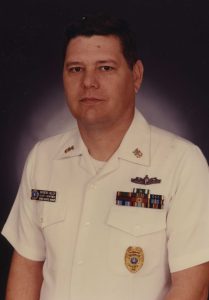 On Wednesday, November 2, 2022, Robert P. Sailler, loving husband and father of two, passed away at age 70.
Robert was born on February 27, 1952 in Kansas City, Missouri to Robert E. and Nona G. (Harman) Sailler.
Robert went on to serve proudly in the United States Navy from 1972-1998 retiring at the rank of Master Chief Petty Officer (SW). He saw time in Vietnam and was instrumental in the evacuation of refugees during Operation Frequent Wind. During his 26 years of service, he also obtained a Bachelor's Degree in Criminal Justice from Chaminade University of Honolulu.
While stationed at Pearl Harbor, Hawaii, he met the love of his life, Miki D. Tanaka and on December 28, 1985, they were married.
Soon after retiring, Robert went on to work with United States Customs and Border Protection from 2000-2016. He had the pleasure of working at Alexandria Bay, NY, Singapore, and Galveston, Texas.
Robert was preceded in death by his parents. He is survived by:
Wife: Miki Sailler
Son: Andrew Sailler, his wife Dara, and their children Klaire and Kai.
Daughter: Catherine Rettig, her husband Ryan, and their children Luke and Connor.
In honor of his memory, a funeral service was held at 3:00pm on Saturday, November 12, 2022, at Crowder Funeral Home in Dickinson, Texas.