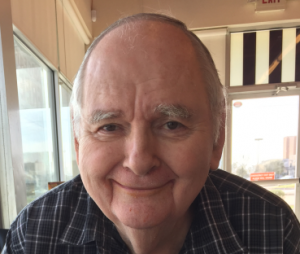 Robert Buscher Sr., of Houston, passed away Sunday, December 31, 2017 in Webster, TX.  He was born October 12, 1939, in St. Louis, MO to Alfred and Catherine Buscher.  Robert was a veteran of the U.S. Army Finance Corps and a graduate of Washington University in St. Louis, MO. Robert relocated to Jacksonville, FL and retired as the comptroller for Anheuser Busch in Jacksonville, FL.  Later in life, he was the owner of Network Video in Jacksonville, FL. He then moved to Houston Texas in 2000 where he was an accountant with Gulf Coast Limestone in Seabrook, TX.  He also was an avid traveler and had been to over 100 countries in his lifetime. Robert was a loving son, brother, husband, and father and would do anything for his family.
Robert was preceded in death by his parents.  He is survived by his wife of 56 years Patricia Buscher, son Robert Buscher Jr. (wife Sharon Buscher) of Honolulu, HI, daughter Deborah Buscher of Houston, TX, grandchildren Kaysea Buscher and Robert Buscher, and great grandchildren Akadius Buscher and Morinyo Buscher.  He is also survived by his sisters Barbara Gazzerro (husband Bill) of Dayton, OH and Kathy Wilmot (husband Jim) of Palatine, IL and numerous nieces, nephews, great nieces, and great nephews.
A memorial service will be held at 1:00 pm, Saturday, February 10, 2018, Clear Lake United Methodist Church chapel in Houston, TX.  The service will be followed by a small reception to commemorate Robert's life.  In lieu of flowers, donations to the Alzheimer's Association are requested.