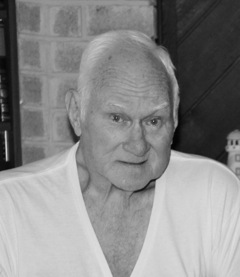 Robert (Bob) Lee Poulter, 75, passed away Monday, June 4, 2018 in Webster, TX surrounded by family. He was born on October 9, 1942 in San Diego, California. He was the son of the late Gerald L. Poulter and Ruby I. Poulter.
Robert loved to spend time in his boat fishing at his favorite fishing holes, working on stained glass, collecting coins, and spending time with his family and friends. He was always there to help his kids on household projects and relatives for whatever they needed him for. Robert was a loving husband, father, grandfather, and friend to everyone.
Robert is survived by his loving wife Alice of 53 years; along with three children; Robert (Angela) Poulter of League City, Texas, Robin (Cliff) Osborne of League City, Texas, Randy (Beverly) Poulter of Pearland, Texas; 7 grandchildren; Rollie Osborne, Alyssa Osborne, Ty Osborne, Brenna Osborne, Ryan Poulter, Katie Poulter, Sydney Poulter. He is also survived by his sister Diana Voorhis (Leslie) of Ursa, Illinois; brothers, Gerald E. Poulter (Malinda) of Canton, Missouri, William E. Poulter (Shelia) of Hamilton; and many loving nieces and nephews. He was preceded in death by sister, Madonna Moore.
The family welcomes you to a remembrance/visitation on Friday, June 8, 2018 at 4:30 at Crowder Funeral Home, 111 East Medical Center Blvb. Webster, TX.