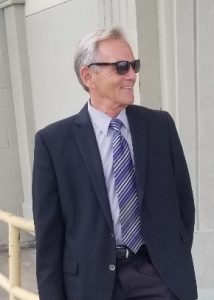 Robert ("Bob") Glass, passed away on Sunday, April 16, 2023 in League City, Texas at the age of 64.  Born on February 25, 1959 in Houston, Texas to Charles Ries Glass and Mary Frances Sweeney Glass.
Bob's interests were sailing, surfing, anything around the beach or water, photography, cars, drumming, and music in general. He loved sharing his knowledge with family and friends alike. Bob was a people person, never met a stranger. He never failed to make anyone laugh with his witty sense of humor or bring a smile to your face with his often silly antics. He had a tremendous love for his family!
Bob was preceded in death by his parents Charles ("Ries") and Mary Glass.
He is survived by his wife Dana Glass; his daughter Whitney Mendenhall and her husband Lauren; his sons, Robert, Ethan, and Johnathan Glass; his siblings Susan Studebaker-Mozara (Steve), Mary Myers (Mickey), Chuck Glass, Liz Rocamontes (Rick); his grandchildren Corwyn, and Ævum Mendenhall; and his many nieces and nephews.
The Family will receive friends on Friday, April 21, 2023 at 2:00pm with a Celebration of Life Service at 3:00pm at Crowder Funeral Home, 1645 East Main, League City, Texas 77573