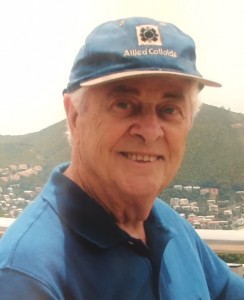 Robert "Bob" Allan Mintz 79 passed away on August 10, 2016 in Houston, Texas following a lengthy battle with Leukemia. Bob was born in Aromas, California to Alf and Florence Mintz. Shortly after his birth, his parents moved to Avila Beach, CA where he spent his early childhood. His parents later moved to Grover Beach, CA where Bob attended local schools.
Bob graduated from Arroyo Grande High School in 1954. During his school years there, Bob lettered in Track and Football. Bob attended Cal Poly majoring in Electrical Engineering and graduated with a BSEE degree in 1958. He completed his education at the University of Pittsburgh graduating with a MSEE degree in 1960.
Bob's professional career began with Westinghouse Electric working on aerospace technology. Later, he joined TRW Systems Inc. where he was the Manager of the Electrical Power Systems Unit, which supported the National Aeronautics and Space Administration (NASA) both in Nassau Bay, Texas and Los Angeles, California. Later in his career, Bob went from working on space projects to projects on the bottom of the ocean. He became the Manager of special projects for TRW Subsea Petroleum Systems, a manufacturer of control systems for under water oil wells. Bob was instrumental in developing a system to electronically control the opening and closing of oil valves on the ocean floor. TRW sold this division to Kvaerner FSSL Co. and Bob became the President of U.S, operations and retired from this position in the late 1990s.
In his spare time, Bob became a Stockbroker and was licensed in Texas and in California. Bob enjoyed many recreational sports, especially golf and sports fishing for bass and trout.
Bob is survived by his daughters Cheryl and Robin, granddaughter Samantha, and fiancee
Natalie Kupris, brother Gene Mintz (Sharon), sister Marlene Mankins (David) and many nieces and nephews. He was preceded in death by his wife of 55 years Roddee, daughter Jani Lee, parents Alf and Florence and brothers Monty and Ronald. Bob was a loving father, grandfather, and friend to all who knew him. He will be missed by all!
Visitation for Bob will be from 5:00 p.m. to 7:00 p.m. Friday, August 19th at Marshall-Spoo Sunset Funeral Chapel in Grover Beach. A graveside burial service will be held at 1:30 Saturday, August 20th at the Arroyo Grande Cemetery.
Friends and family in Houston can join us for a reception that will be held on Wednesday, August 31st in Clear Lake City from 6-8 PM at 4310 Village Corner Dr, Houston, TX 77059.