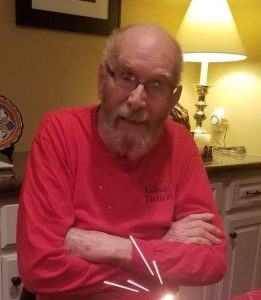 Robert Anthony Riegl, 92, a resident of Pearland, TX passed away December 14, 2022 in Pearland, TX. He was born in New York, New York on November 21, 1930. In 1948, Robert graduated from both Bay Side High School as well as the Juilliard School of Music where he was a violin prodigy.
He then attended Fordham University and graduated in 1952 with a degree in Chemistry. Due to his serving in the Army Reserve Officer Training Corps (ROTC) as an undergraduate, Robert received his 2nd Lieutenant Commission upon graduation and was immediately sent to serve his country in the armored calvary where he served two tours of duty as both a forward observer and receiving a battlefield promotion to 1st Lieutenant as a platoon leader commanding tanks through numerous battles during the Korean War earning two Purple Hearts during his service.
Upon return from active duty in Korea and West Berlin, Robert earned his master's degree in Chemistry from Columbia University where he remained in the Army Reserves and received a promotion to the rank of Captain. It was during his service to his country leading training exercises and classroom learning that he found his passion for teaching.
He spent his entire career which lasted 42 years teaching chemistry at Island Trees High School and Plainview John F. Kennedy High School. Robert also served as both a track & field official and a swimming official for high schools throughout Nassau County, New York.
He was a 4th Degree member of Knights of Columbus and was of the Catholic Faith. From an early age, Robert found incredible enjoyment and peace in the outdoors and continued his love of fishing, shooting, and hiking as long as he was able. Robert was an active adult member of the Boy Scouts of America having been awarded the District Award of Merit and the Silver Beaver.  He was a Vigil Honor Member in the Order of the Arrow and earned his Third Wood Badge Bead. He was also a long-term member of the Fresh Water Anglers of Long Island.
He reunites with his spouse of 38 years, Josephine Riegl; his parents Edward and Lucy Riegl.
Robert leaves behind his daughter, LuAnn Daniel, husband Robert; son, Edward Riegl, wife Nicole.
A memorial service will be held in the new year.  Donations in lieu of flowers can be made in his memory to St. Jude Children's Research Hospital (www.stjude.org), a cause that was near to his heart.