Robert Alton "Bobbie" Briscoe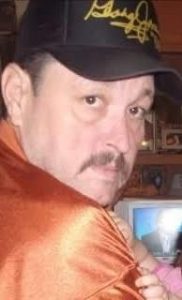 Robert Alton "Bobbie" Briscoe of Dickinson, Texas passed away on April 26, 2017. He was born January 28, 1963 in Stamford, Texas to Jerry Mack and Elizabeth Yvonne (Little) Briscoe. He enjoyed BBQ's with friends and listening to music. Bobbie also loved his dog Mickey. He was preceded in death by his mother, Elizabeth, step-father William "Booty" Daughtry and brother Thomas Bryan Daughtry. He is survived by his wife Terri Reed and her daughter Amylin Hick, granddaughter Autumn, and her son Allen Reed, father Jerry Briscoe, his sister Sherry Lackey, his brother Sonny Daughtry and numerous nieces and nephews.
The family invites his friends to attend a celebration for the life of Robert on Saturday, May 6, 2017, at 10am, at Crowder Funeral Home, 111 East Medical Center Blvd., Webster, Texas, 77598.