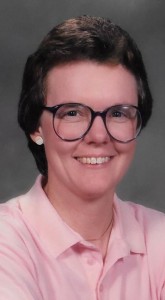 Robbie Nell Biggerstaff was born in Fort Worth, TX on March 13, 1951 and passed away on September 17, 2015. She was the middle child adopted by James Arthur Biggerstaff and O'Bera Forrester Biggerstaff of Tahoka, TX. A gifted athlete, Robbie lettered in three sports in high school and seven sports at Wayland Baptist University. There she was a member of Theta Alpha Psi and was named to Spinning Wheels, a campus leadership group. During her college years she volunteered as a summer missionary in churches across El Paso and South Texas. In New York and Oklahoma she worked summers as a camp counselor for mentally and physically challenged adults and children.
After college Robbie attended Southwestern Baptist Theological Seminary in Fort Worth, TX where she earned a Master of Arts in Religious Education. Interestingly enough, during seminary Robbie volunteered as a recreation leader with the young women and girls at the Edna Gladne Home where she had once been placed for adoption. While at seminary, Robbie met Toni with whom she spent the rest of her life.
In rural schools in West Texas, at Oklahoma State Reformatory in Granite, Oklahoma, and Pasadena ISD, Robbie spent a 30 year career as librarian, coach, and middle school reading and writing teacher. She is grateful for the lifelong friends from Beverly Hills Intermediate who have warmly supported her during the last four years of illness.
Robbie followed her parents' lead in creating a family through adoption. She lovingly helped raise Toni's adopted children, Katie Pallone and Alexis McNeilly, and adopted her own daughter Baylee Katelyn Biggerstaff. These, along with Katie's husband, Greg Pallone; sister Lynn Alexander and husband Bill; brother James Biggerstaff and wife Julie; and numerous nieces, nephews, family members and friends are left behind to mourn her loss. She is preceded in death by her parents, James and O'Bera Biggerstaff and sister Anna Lee Wilson.
A visitation will be held on Sunday, September 20, 2015 from 4:00 p.m. – 7:00 p.m. at Crowder Funeral Home, 2422 Broadway, Pearland, TX. Funeral services will also be held at Crowder Funeral Home on Monday, September 21, 2015 at 10:00 a.m. with Rev. Trent Henderson of Heritage Park Baptist Church officiating. Following the service the internment will take place at Forest Park East in Webster, TX.