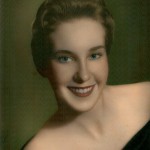 Rita Maxine Schott, 76, of Pearland, TX, passed away February 5, 2014 in Pasadena, TX.
She was born May 12, 1937 in Tuscaloosa, Alabama to Paul and Rita (Armand)Judice. Rita was a member of the Maxwell Center Bridge Club and the Pasadena Town Center Bridge Club and, and attended Mary Queen Catholic Church in Friendswood, TX. She has lived in Pearland since 1996 and is formerly of Houston, TX.
Rita is preceded in death by her sister, Ann Phillips.
Rita is survived by her husband, Lindy Schott; sons, Micah Schott and his wife Sherri, Joe Schott and his wife Kim, Paul Schott and his wife Linda, daughters, Stacie Clement, Nicole Rager and her husband Dean; half-sister, Patsy Mers and her husband Alan; grandchildren, Samuel Schott, Hannah Schott, Noah Schott, Jonah Schott, Isaac Schott, Joseph Schott, Matthew Schott, Timothy Schott, Katarina Schott, Carl Clement IV, Adam Clement, Tyler Schott, Haley Schott and Luke Rager.
Funeral Services will be held Saturday, February 8, 2014 at 2:00 p.m. at Crowder Funeral Home, 2422 Broadway, Pearland, TX 77581 with Deacon Paul Robison, M.S. officiating.