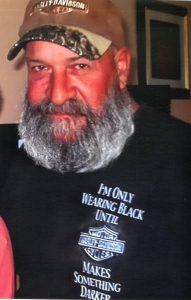 Richard Schneider, 65 of Texas City passed away September 15, 2020 in Texas City.  He was born on October 17, 1954 in Galveston, Texas to Henry and Geraldine Schneider.
Richard was a longtime resident of Texas City and was a Plumber with Local 211.
He is preceded in death by his parents and brother David Schneider.  Richard is survived by his wife Juanita Castillo, daughters:  Natalie Nicole Waters and Amy Marie Mathews, sons: Richard "Clutch" Schneider, Jr. (Kristal) and Fred Castillo, III, his sisters Gerrylyn Waters (Lathan) and Jane Cothran; granddaughters: Sandra Taylor Castillo, Amalia Marie Mathews, Brooke McAteer, Haley Farmer (Brandon), Abbi Gerami, Adalyn Waters, Rheagan Schneider and Ryane Schneider; grandson Jonathan Waters and great granddaughter Adelynn Brae Padgett and numerous family and friends.
Arrangements are under the direction of the James Crowder Funeral Home, La Marque.
A Celebration of Life will be scheduled at a later date.