Rhonda Lynn Langford Stevens Cuyos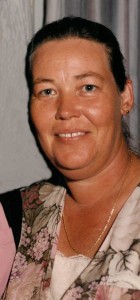 Rhonda Lynn Langford Stevens Cuyos, 59 of La Marque passed away April 19, 2015 at Mainland Medical Center Hospital in Texas City. She attended Ball High School in Galveston. Rhonda was a lifelong resident of Galveston County. She served many years as a police dispatcher for multiple police agencies in Galveston County. Rhonda is preceded in death by her husband Denny Rizal Cuyos; her father Roger Langford; and sister Karen Gaither.
Rhonda is survived by her mother Joyce Ciranni; one daughter and son-in-law, Shannon Butler and Jim; one son and daughter-in-law Kenneth L. Stevens, Jr. and Cecilia; three step-children Tonya Kay Cuyos, Patricia Lausch and Michael, Sheri Cuyos-Blackman and Robert, Shellie Bigley; sister Brenda Langford; 19 grandchildren and one great granddaughter; and step-brother Steven Shockley and wife Kathy; numerous aunts, uncles, nieces and nephews.
A Memorial Service will be Saturday, April 25, 2015 at 11:00 am in the Chapel of the James Crowder Funeral Home in La Marque, with Dr. David Smith, officiating.