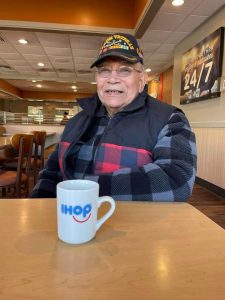 Reyes A. Hernandez, Jr., 82, of Friendswood, passed away May 5, 2023 in his home. Reyes was born December 17, 1940 to Irene and Reyes Hernandez, Sr. in Galveston. He proudly served his country in the U. S. Marine Corps and was a Vietnam veteran. He supported his family as a Petroleum operator for Amoco for many years.  He will be remembered as a loving father, grandfather, and great-grandfather.
He was preceded in death by his parents.
Reyes leaves behind to cherish his memory his daughter Raquel Rene Johnson; sons Reyes A. Hernandez III and his wife Merisha, and John Paul Hernandez; daughters-in-law Ann Williams and Patricia Messina-Eshelman; sister Alice Huffman; brothers Josh Hernandez, Samuel Hernandez, and Daniel Hernandez; grandchildren David Williams and fiancé Krista Neissl, Dillon Hernandez and wife Alexis Garza, Chase Hernandez, Austin Hernandez and fiancé Viridiana Pena, Alexis Hernandez and fiancé Matthew Bellnoski, Evan Hernandez, Sophia Hernandez, Elizabeth Walker, Christopher Hernandez and wife Kelle, Carter Hernandez, Taylor Sanderson, Lindsey Sanderson, and Kaitlyn Almeida and husband Jonathan; great-grandchildren Noelle Hernandez, Elijah Hernandez, Karla Hernandez, Hannah Williams, Addison Neissl, Mila Hernandez, Jaxson Hernandez, Eiden Torres, Parker Almeida and Reese Almeida; and numerous nieces, nephews, and friends.
In his memory there will be a celebration of life service 10:00 am, Friday, May 19, 2023, at Crowder Funeral Home Chapel Dickinson.