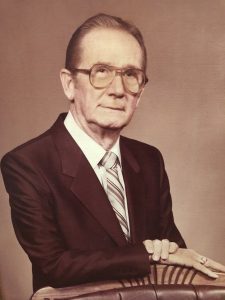 Rev. Dillon D. Laffin, 101, passed away on March 20th, 2018 in Clear Lake, Texas. He was born on November 4th, 1916 in Celina, Ohio. His wife of 74 years, Vivian, and infant daughter, Darlene predeceased him. He is survived by daughters Marcia Lemon and husband Nelson and Deborah Lounsbury; grandchildren, Stephanie Lemon, Courtney Saab and husband Mason, Eric Lemon and Jason Lounsbury; great grandchildren, Brenna Lemon, Kyleigh Saab and Evan Dodds.
He was a veteran of WWII in the Navy. After his military service he graduated from Taylor University, Upland, IN and Garrett Theological Seminary, Evanston, IL. He was a United Methodist minister for 52 years serving churches in Indiana and after retirement in Texas.
A memorial will be held on Saturday, March 24th, 2018, at 2:00 p.m. at Clear Lake United Methodist Church, 16335 El Camino Real, Houston, Tx 77062. Memorial donations should be made to Clear Lake United Methodist Church.