Rebecca Jo Howell "Becky" Blanchard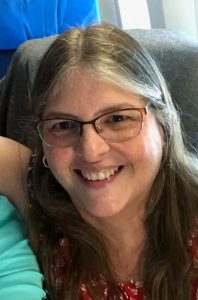 Rebecca Jo Howell "Becky" Blanchard lost her battle with Covid Monday Night, Dec. 12, 2022.  She was 58 years old.
She is survived by her beloved husband, Roy, and their son, Shelton Robert.  Also surviving, her mother, Rosanne Howell, her brother , Ken (Linda), and sisters, Karen, Patricia, Pamela, Elizabeth along with several nieces and nephews.  Also mourning her loss are many dear friends.  She is preceded in death by her dad, Kenneth.
Becky was a graduate of Clear Creek High School, University of Houston, main campus and University of Houston, Clear Lake.  She held several certifications in the field of education.  She was a middle school teacher as well as high school educator.  After more than 30 years of teaching, she retired from Clear Lake Intermediate School a year ago.  She and Roy were able to start that journey of their dreams as they went to Wisconsin where she became ill and returned home.
A special thanks to the dedicated intensive care nurses and respiratory technicians who diligently cared for her at UTMB, League City and Kindred Hospital, Webster, particularly Shandra Robinson-Hogen, Santanta Haire and Sylvia Pritcreet.  Also the dedicated physician Dr. Mohammed and Dr. Abu Athena.
A Celebration of her life  will be held January 21, 2023 at 2p.m. at Clear Lake Bible Church in Houston.