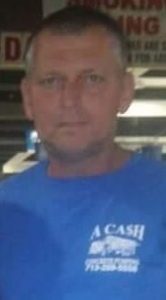 Raymond Howard McCarthy, 47, passed away October 8, 2016 at his home in Lake Jackson. Mr. McCarthy was born June 23, 1969 in Ste. Genevieve, MO. Raymond was formerly of Pearland, TX and was a proud employee of Gulf Coast Concrete for over 22 years. He attended Lighthouse Baptist Church.
Mr. McCarthy is preceded in death by his father, Herman Joseph McCarthy.
Raymond leaves behind to cherish his memories, wife of 12 years, Elizabeth McCarthy; daughter, Ashley McCarthy; son, Brandon McCarthy; step-sons: Benjamin Ulisses Flores and Brandon Cortez Flores; mother, Jane Farlow; sisters: Dianne Cain, husband, William, Sheila Denton, husband, Trenton and Suanne Schoerger, husband, Cory; brothers; Larry Oehlert and Keith McCarthy; 6 nieces and nephews.
A visitation will be from 5-8 pm Tuesday, October 11, 2016 at Crowder Funeral Home in Pearland. There will be a graveside service on Wednesday, October 12, 2016 at 12:00 pm at Confederate Cemetery in Alvin, TX.