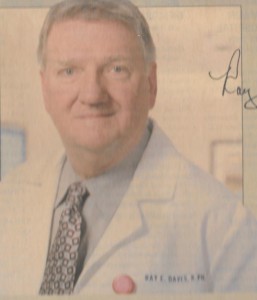 Ray Elledge Daves passed away on Thursday, January 28, 2016, in League City, Texas, at the age of 68. Born on August 6, 1947, in Houston, Texas to JN Dewey Daves and Coralie Laverta (Arnold) Daves, he met his future bride, Rosalie Romano, at St. Elizabeth Hospital and married her September 1, 1968.
Ray was a member of Sigma Phi Epsilon at Lamar University and graduated from The University of Houston College of Pharmacy in 1971. While there, he was initiated into the Beta Omicron Chapter of The Rho Chi Pharmaceutical Honor Society.
Ray and Rosalie celebrated the birth of two daughters, Robyn Laverta Daves Culling and Robye Marie Daves Harvey. He was received into full communion with the Catholic Church in 1975 at St. Paul the Apostle Catholic Church.
Ray was a selfless servant in all areas of his life, especially to his wife and daughters, and he had the most cherished title of 'Pop' to his six grandchildren. He served tirelessly as a pharmacist in his own business and then later in the hospital and on the mission field. He owned Miramar Pharmacy in Seabrook, Texas and The Prescription Shoppe in Coleman, Texas, where patrons were more than customers–they were friends. Because of Ray's love for music, he began The Coleman Barbershop Chorus. Later, as a hospital pharmacist, he treasured his coworkers tremendously. Most of all, he was a servant of the Lord. A fervent member of his parish church, Ray was faithful to his most important appointment of the week in Adoration, was a fisher of men with his ACTS brothers, and passionately brought Jesus and healthcare to the poorest of the poor in Guatemala. In his roles as advisor, caretaker, counselor, encourager, moral compass, and shoulder to cry on, Ray quietly was the face and hands of Jesus to everyone he met.
In 1997, Ray began working at San Jacinto Methodist Hospital where he served tirelessly and was always willing to take another's shift when needed. His days off were spent traveling or cheering on his grandchildren, whether it was at a sporting or scouting event and dance recitals. Ray may have been a die-hard Cougar fan, but his daughters had truly instilled the Spirit of Aggieland in him.
Preceded in death by his parents, JN Dewey and Coralie Daves, Iris Daves, and Sister in Law Jeannie McGee. Ray is survived by his wife of 47 years, Rosalie, his daughters Robyn and husband Thomas Culling and their sons Cade and Cameron; Robye and husband Shawn Harvey and their children Grant, Ryanne, Clark and Rhyse. He is also survived by his two brothers, Lamar and wife Kay Daves and his identical twin Roy and wife Carolyn Daves along with his nieces and nephew. He was also survived by his sisters, Marie Zeto, Theresa Foster, Catherine Chu, Johnnie Magliolo, and Angela Romano.
Serving as pallbearers are Tracy Andrus, Edward Bornet, Michael Culling, David Mace, Gary Noto and Regis Wrobleski. Honorary Pallbearers are the St. Paul the Apostle ACTS Brothers.
A visitation is scheduled for Friday, February 5, from 6-7:30 p.m. with a Rosary to follow from 7:30-8:00. The Mass of Christian Burial will follow on Saturday, February 6, at 11 a.m. with Rev. Wencil Pavlovsky, celebrant. All services will take place at St. Paul the Apostle Catholic Church, 18223 Point Lookout Drive, Nassau Bay, TX 77058. Interment to follow at Mount Olivet Catholic Cemetery, 7801 Gulf Freeway, Dickinson, TX 77539.
In lieu of flowers the family requests donations be made to St. Paul Building Fund or STA Medical Missions, St. Thomas Aquinas, 2451 Earl Rudder Freeway S., College Station, TX 77845.