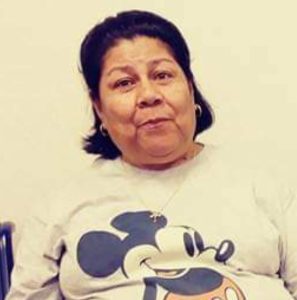 Raquel H. Salazar, 69, of Bacliff, Texas, passed away February 1, 2023.  She was born on January 15, 1954, in Alvin, Texas to parents Simona Espinoza and Jose Hernandez..
Raquel worked in child care.
She leaves behind to cherish her memory, her devoted husband, Ramon Salazar; daughters, Ashley Salazar, Amy Salazar and Kristina Lopez; son, Jared Pinson: sisters, Raleigh Hernandez, Minnie Perez, Debbie Rendon, Martha Valdez and Mary Martinez; brothers, Isaac Mario Hernandez, Paul Hernandez and Manuel Hernandez; stepson, Marcos Salazar and girlfriend, Alicia Armstrong and their three children, Roman, Isaiah and Katherine; grandchildren, Alexa Lopez, Jasmine Lanier and Aubree Lanier and numerous nieces and nephews.
In her honor, there will be a visitation on Saturday, February 18, 2023 from 1:00pm to 3:00pm at Crowder Funeral Home in Dickinson, Texas. A funeral service will follow at 3:00pm.