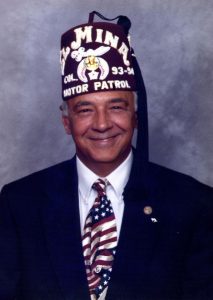 Ralph Philip Meadows, 73, resident of Alvin, Texas, passed from this life on May 21, 2020. He was born in New Orleans, Louisiana to proud and loving parents, William and Helen Meadows, Jr. on July 29, 1946. He was raised in Decauter, Alabama where he earned his Eagle Scout rank and met his wife of 52 years, Kay Brown Meadows. Ralph was employed for 32 years with Amoco Chemicals.  Through the years, Ralph served his country as a member of the U.S. Marine Corp. and community as a Deputy Sheriff from 1970 to 1977 with the Morgan County Sheriff's Office in Decauter, Alabama. He became a Master Mason in the Rising Sun Lodge in Huntsville, Alabama. After achieving Master Mason, he joined the Scottish Rite Lodge, later becoming a Shriner with El Mina Temple in Galveston, Texas.
He met and married the love of his life, Kay Brown, and from that union, a daughter, Heather, and son, Philip, were born. Ralph was a devoted husband, father and grandfather.
Ralph was preceded in death by his parents; sister, Theresa Meadows; brothers, Paul Meadows and Walter Meadows.
He leaves to cherish his memory, his loving and devoted wife of 52 years, Kay Meadows; daughter, Heather Meadows Hayes and husband, Harold; son, Ralph Philip Meadows II and wife, Melissa Meadows; grandchildren, Caitlyn Meadows, Madison Hayes, Patrick Hayes, Jacob Tucker and Josh Tucker; brothers, Thomas Paul Meadows and wife, Alice, and Gerald Meadows and wife, Angie, Billy Meadows and wife, Candace; sister, Carol Goldowski and husband, Kevin, as well as nieces, nephews, and numerous friends and colleagues.
In his honor a visitation will be held, Monday May 25. 2020 from 5-8:00 pm with a Masonic Service at 7:00pm at Crowder Funeral home Hwy 517 in Dickinson. A graveside service will be Tuesday May 26, 2020 at 10:00 am in the Confederate Cemetery, Alvin, Texas.