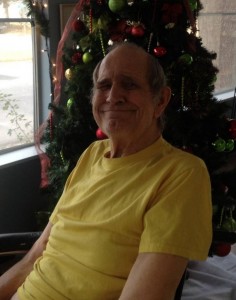 Ralph Joseph Drees, Jr., of Caldwell, former longtime resident of Dickinson, passed away January 9, 2015. He was born February 8, 1941 to Ralph and Freda Drees in Dickinson, Texas.  Ralph was a graduate of Dickinson High School and worked as an electrician for Union Carbide. He was preceded in death by his parents, and by his loving wife, Arlene Drees.
Ralph is survived by his daughter, LeAnn Fontenot and her husband David; sons, Ralph Drees and his wife Sharon, Thomas Drees and his wife Ellen, and Shane Allen Roth; sisters, Mary Epps and Shirley Showalter; brothers, Martin Drees and his wife Nell, Robert Drees and his wife Helene, and Frank Drees and his wife Lois; thirteen grandchildren and ten great grandchildren.
A visitation will be held Friday, January 16, 2015 from 9:30 am to 11:00 am, with funeral services at 11:00 am at the Crowder Funeral Home Chapel, Dickinson, Texas officiated by Pastor Gary Faulkner. Interment will follow at Dickinson Cemetery, Dickinson, Texas.