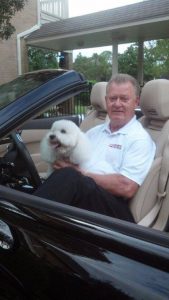 Ralph Edward Baughman, son of Curtis and Berta Baughman was born on August 2, 1939, in Houston, Texas.  Ralph passed away on January 12, 2020 in League City, TX.  He was preceded in death by his parents, Curtis and Berta Baughman, brothers Charles, Donald and his sister Sandra.  He is survived by his wife of 60 years, Yvonne; his son Ronald and grandsons Evan and Erik of Kemah; his daughter Leigh Ann and her husband, Tim, of Austin; his brother Vincent and his wife Lynn.
Ralph graduated from San Jacinto High School, Class of 1958 and attended The University of Houston in Houston, TX. After 20 plus years working in the fumigation business, Ralph and his son Ronnie opened International Fumigation Services in Pasadena, TX.
Ralph was always the life of the party and made friends easily who lasted a lifetime.  He never met a person he couldn't talk to.
His passions in life were traveling, spending time at the lake, catching up with friends and enjoying his grandsons.
A celebration of Ralph's life will be held on January 18, 2020 at 2:00 pm. Visitation with the family will be at 1:00 pm prior to the Celebration of Life.  Both will be held at Crowder Funeral Home, 1645 E. Main Street, League City, TX.
In lieu of flowers, please consider a donation to the charity of your choice in honor of Ralph.