Rafelita "Jeanie" Salazar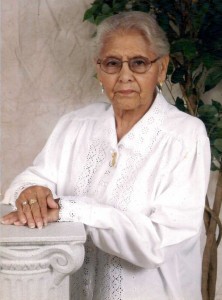 Rafelita "Jeanie" Salazar, resident of Houston, TX since 1978, passed away on December 28, 2015. Mrs. Jeanie was born in Las Animas, CO on August 1, 1942. She attended Lakewood Church and was a wonderful, Mother, grandmother, great grandmother, sister, aunt and friend.
She is preceded in death by her husband, Antonio Salazar; son, Robert Salazar and parents Ed and Della Martinez.
Mrs. Jeanie leaves behind her daughters: Mary Martinez and husband Jim Santiago, Margie Salazar, Gloria Palmberg and Christina Mendez; sons: Joe Salazar and wife Alice, Antonio Salazar Jr., Rudy Salazar and wife Susie, Freddy Salazar and Carlos Salazar; 29 grandchildren and numerous great grandchildren; sisters: Connie Oliver and husband Eddie, Dolores Daniels and husband Glenn and Rita Diaz; brother, Alfonso Mondragon and wife Deanne.
There will be a visitation held on Friday, January 1, 2015 from 3-8 pm with a service to begin at 6:30 pm, at Crowder Funeral Home. A graveside service will be Saturday, January 2, 2015 at 1pm at Forest Lawn Cemetery.