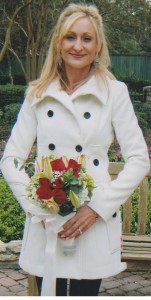 Rachel Harper Starnes
April 21, 1974 – April 1, 2016
Our precious Rachel Harper Starnes passed away April 1, 2016 at the age of 41. The world has lost a gifted artist and a unique and beautiful soul.
Rachel grew up in Friendswood, Texas. She was devoted to family and had a deep love for her brothers, sisters-in-law, niece and nephews.
Rachel is survived by her father, Ace D. Harper; mother Cindy Landers Harper; grandparents Carol Landers and Rosie Harper Riley; brothers Bubba Harper, Joey Harper and Adam Harper; sisters-in-laws, Rebecca Coffman Harper and Lauren Winterbauer Harper; beloved niece and nephews Gracey Jo Harper, A.J. Harper and Jake Harper; uncle John Landers and aunts Nona Nelson Landers and Amber Harper Branch.
Space does not permit individual listing of all the great aunts, great uncles and cousins she loved but it does not diminish the importance they held in her life.
A memorial service will be held at Crowder Funeral Home on Medical Center Blvd. in Clear Lake on Saturday, April 9, 2016 at 2:00pm.