Primitivo "Tivo" Ruiz Perez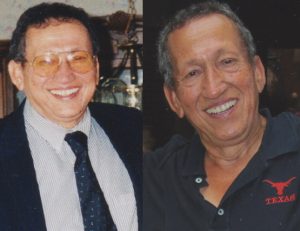 Primitivo "Tivo" Ruiz Perez, 81, passed away on July 5, 2023, in Webster, TX. He was born on October 20,1941 in Kingsville, TX to Alejandro Perez and Angelita (Ruiz) Perez. Tivo is survived by his loving wife, Ninfa Canales Perez; son, Jason Perez; brother, Oscar Perez; granddaughter Zowii Aguilar and numerous family members and friends.
When his nation called he answered by joining the United States Air Force. He earned a BA from Texas A & I University. Tivo worked as an Engineer for NASA.  Tivo was in charge of the Shuttle Training Aircraft (STA) simulation section. It was an aircraft that was modified to fly computer inputs that simulated the way the Shuttle flew. Astronauts who landed the shuttle had undergo hundreds of hours of training flying the STA, making thousands of landings to become proficient to land the shuttle. Tivo was in charge from the beginning of the STA program until it ended when it was retired. He received several engineering awards, as well as numerous group achievement awards. He was respected as a technical leader as well as a skilled manager. Tivo was mentioned by name in one of President Bush's graduation speeches in May of 1990 at Texas A&I University as an example of the high achievements made by Hispanics.
He had a passion for golf & Chinese food and loved to play golf with his friends and co-workers.
On Monday July 10, 2023, Tivo's family will greet guests during a viewing from 6:00 pm to 8:00 pm with a Rosary at 7 pm at Crowder Funeral Home, Webster, TX. A Memorial Funeral Mass will follow on Tuesday, July 11, 2023, at 10:30 am at St. Bernadette Catholic Church 15500 El Camino Real, Houston, TX 77062. Burial will take place at a later date at Ft Sam Houston National Cemetery, San Antonio, TX. In lieu of flowers those wishing to make a memorial donation in Tivo's memory may do so to the charity of your choice.