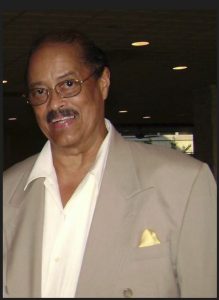 CMS Platte D. Henderson U.S Army Ret
Platte D. Henderson Jr, 84yrs old, passed away on the 17th day of December 2022, in Houston, Texas. He was born on the 8th of March 1938 in Houston, Texas to Anna Martin Henderson and Platte D, Henderson Sr. Dad is survived by his wife Loreta Mata Henderson ; daughter, April L Spikes Henderson sons; David A Henderson, Patrick D Henderson, Anthony J Henderson, Christian J Henderson, sisters; Jacqueline A Smith, Caroline L Ward, Linda D Wesley, Gail L Hines. Dad was preceded in death by sister; Valerie R Henderson, and brothers; Alan L Henderson, Ronald E Henderson. Dad's grandchildren; Ryan JW Henderson, Ryleigh Y Henderson, Mckinley C Henderson, Noel Spikes, Detra Hurd, Charles H Spikes, Ashley Crespo, Derrico D Henderson, Joe'ceph A Henderson ; great grandchildren, Dakota Hurd, Nyari Hurd, Nasira Spikes, Aniah Spikes, Nasir Spikes, Uncle Sydney Berrard, Tisha Henderson and numerous family members and friends. Dad was a member of Gloria Dei Lutheran Church for the past 16 years. Our brother Christian was baptized at Gloria Dei.
When his nation called he answered by joining the US Air Force and then the US Army for a 28 year career. Before retiring Dad had attained  the highest enlisted rank in the military, Command Sargent Major. This feat stationed him at the home of the First U.S.Army Band Command Fort Meade Maryland. After retiring he earned an Associate's Degree from HCC as a Respiratory Therapist and retired from HCA HealthCare Clear Lake.  He always had a passion for fishing and outdoors as we all know. All the Henderson's of that generation were supreme outdoorsmen, hunting and fishing Dad always had a membership from the base Rod and Gun Club.
A memorial will be held on 28thday of December, at 2 pm at Crowder Funeral Home, 111 East Medical Center Blvd Webster, Texas 77598. In lieu of flowers those wishing to make a memorial donation in Dad's honor can go to National Coalition for Homeless Veterans the donation right on the site. God Bless you.