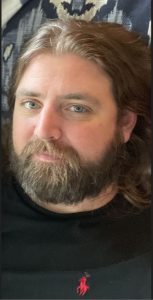 PIERCE HAMILTON MULVANEY, 38 years old, of Nassau Bay, Texas passed away suddenly from a pulmonary embolism on March 31, 2023.
Pierce was born on August 28, 1984 in Houston at The Woman's Hospital of Texas.  Pierce was the middle of three beloved sons born to George Randall (Randy) Mulvaney and Rebecca Nan (Becky) Riley Mulvaney of Nassau Bay.
Pierce has joined the Heavenly reunion with his grandparents, Neil Hamilton Riley, Sr and Betty Nan Kober Riley and cousin Andrew Morgan Dowdy and grandfather George Roland Mulvaney.
Pierce attended McWhirter and Hyde Elementary Schools, League City Intermediate School and graduated from Clear Creek High School in 2003.
Pierce played soccer, basketball, football and his favorite of all, baseball.
Pierce played on NASA Little League teams K through 5th grade and summer All-Star tournament teams, on League City Pony League teams 6th through 8th grades and summer All Star Tournament teams.  At Clear Creek, Pierce played Jr Varsity and Varsity baseball and American Legion Post 554 and Connie Mack summer teams.
As a little boy, Pierce never met a ball he didn't like or know what to do with.
He loved being part of sports teams for playing the game and all the friends he would make!
Pierce went to Ventura Jr College in Ventura, CA to play baseball as an outfielder and pitcher and start college.  He made many friends during his two years there.  He had many fun travels down the coast from Ventura to Carlsbad, CA to visit family.
Pierce was offered a scholarship to play baseball and attend Ranger Jr College in Ranger, Texas.  He played outfield and pitched until his junior college eligibility was over.  Pierce was playing summer tournament ball and was offered a baseball scholarship to be a pitcher at Newmann University in Wichita, Kansas.
While attending Newmann University, Pierce found a field of study he loved.  He majored in Communications, was inducted into Lambda Pi Eta, Communications Honor Society and made the Dean's List.  He graduated in May 2009.
For several years Pierce worked in the oil industry in California and Texas.  Being open to a new opportunity, Pierce went to work for International Plant Services, part of IMI.  He worked in Borger, Texas for several months before being transferred to a project in Lake Charles, Louisiana.
A new IPS project sent Pierce to the island country of Malta.  Pierce adapted very well to living and working in Malta making many friends during his time there.  He enjoyed working in an international setting for IPS.  His latest IPS project was in Rockport, Texas, where he passed away.
Pierce loved all his family and looked forward to all family gatherings.  He loved people, baseball and the Houston Astros, NASA and space related things, and Star Wars.
Most loved above all and the most wonderful and meaningful thing in his life was being the father to Atlas Hamilton Mulvaney.  Pierce adored his 15-month-old son and Atlas was his world and the light and joy of his life.  He was a devoted and loving father to his Little Man.  Pierce had many plans for their future together.
Pierce is survived by his adored and beloved son Atlas, Atlas' mother Melina Rodriguez of League City, Texas.  He is also survived by his parents Randy and Becky Mulvaney of Nassau Bay, Texas.  Older brother, George Connor Mulvaney & sister-in-law BreeAnn of Pearland, Texas and younger brother, Logan Douglas Mulvaney of Nassau Bay, Texas.  He was the devoted and much-loved uncle to Della Nan and Charlotte Quinn Mulvaney of Pearland, Texas.
Pierce is survived by Grandmother Joy Pruett of College Station, Texas.  Aunts and Uncles Joe and Priscilla Riley Dowdy of Chapel Hill, North Carolina, Bob and Pam Mulvaney Palmarez of College Station, Texas, Craig and Amanda Mulvaney of Crosby, Texas and Hamilton Riley of Little Rock, Arkansas.
His first cousins, who are also honorary pall bearers, Elena Palmarez Becker (Jerome) and Melissa Palmarez, College Station, Texas; John Riley Dowdy (Layla) and Elizabeth Dowdy, Chapel Hill, North Carolina; Jefferson (Marla) Dowdy, Orlando, Florida; Sidney Riley (Emily) Twentynine Palms, California; Sarah Mulvaney (Zack Zazzara), Georgetown, Texas; Kayce Mulvaney (Gilbert Moreno), Huffman, Texas; Cam Mulvaney, Crosby, Texas and many extended cousins and family.
Services for Pierce will be held at the Clear Lake Church of Christ, 938 El Dorado Blvd.  Visitation will begin at 1:00 P.M. and the celebration of Life at 2:00 P.M on April 15, 2023.
Contributions to a 529 Education Fund for Pierce's son Atlas Hamilton Mulvaney can be made to www.ugift529.com, gift code 383-J0G (0 is the number zero, not the letter o.)