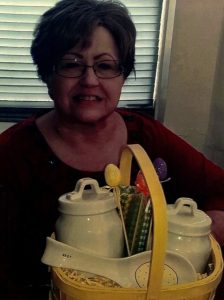 Phyllis Dianna Gassett passed away on Wednesday January 25, 2023 in Texas City, Texas at the age of 74. She fought a long battle with Metastatic Breast Cancer. She was at peace and surrounded by her family at the time of her passing. Phyllis (Mimi) was born on June 5, 1948 to Raymond Edward Stuart (Sonny) and Blanche Maxine Stuart (Granny) in Houston, Texas.
Phyllis attended Catholic Schools in Houston, Texas but did finish out her Senior Year in High School in Georgia. After high school she went to Beauty School in Houston, Texas. During her life she worked several different jobs but her most important, loved and one she was most proud of was caring for her grandchildren. She was a great mother, grandmother and great-grandmother. She went by Mimi and her grandchildren held a very special place in her heart. Her great-grandchildren did as well! Phyllis loved the color yellow, sunflowers and cheetah print. She especially loved being showered with gifts from her sisters. She loved listening to country music especially Garth Brooks and Kenny Chesney. She enjoyed watching her favorite TV shows like Americas Got Talent, The Voice and American Idol. She may say she had a love-hate relationship with her small 15 year old Yorkie named Sweet Pea!
Phyllis is preceded in death by her parents Raymond and Blanche Stuart and her ex-husband Dean E. Johnston. She is survived by her two children Todd (Pam) Johnston and Deanna (Robby) Hamilton. Grandchildren Michael (Meagan) Barrera, Gracie (aka Nurse Fancy per MiMi) and her Fiance Blake Fancy, Savannah Hamilton and Garrett Johnston. Great-Grandchildren Corbin Barrera and Braelynn Fancy. Sisters Valerie (Gary) Cowart, Deborah (Rayme) McKinney, and Jeannette Stuart. Nephews Gary P Cowart Jr, Corey Cowart and Zane Bora. Aunt Doris Bartosh and many cousins. Also her 15 year old Yorkie, Sweet Pea.
A Celebration of Life will be held at Crowder Funeral Home in League City, Texas on February 10, 2023 at 10 am. Following will be a graveside ceremony at Forest Park Lawndale in Houston, Texas at 1 pm.
In lieu of flowers we ask you to consider a donation in Phyllis's name to Metavivor.org. This organization provides research, awareness, and support for men and women with Metastatic Breast Cancer.