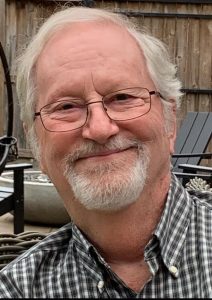 Philip Steven Grant, 1/29/1948-10/21/2023
Philip Steven Grant, beloved husband, brother, father, and grandfather, passed away on Saturday, October 21, 2023.
He was born in Littlefield, Texas to Furman Dewey Grant and Robbie Louise Bigham Grant. Texan to the bone, he lived in Littlefield, Muleshoe, Lubbock and the Houston area, with brief detours to South Carolina and Oklahoma. He graduated from Monterey High School in Lubbock and attended Texas Tech.
While at Tech, Phil met and married Susan Mallard. They welcomed two beautiful daughters; Laura Suzanne and Christin Louise.
Phil began his career as a newspaper photographer in Lubbock, and  continued his career as a photographer for television news in Lubbock and Oklahoma City before moving to Houston. He began his career at KTRK/ABC 13 as a news photographer, and retired 28 years later as the News Operations Manager.
In retirement, Phil devoted himself to his family, taking particular joy in his role as Granddaddy. Walks around the neighborhood to feed the ducks, "special dinners," visits to museums and amusement parks, and loud games of Hungry, Hungry Hippo, Kerplunk and Skip-Bo became memorable events. Even trips to the yogurt shop were a lively occasion. His dislike of gummy worms was a family legend, and as granddaughters enjoyed countless cups of frozen yogurt, piled high with the detested gummies, his remained defiantly free despite their best efforts to convince him otherwise.
Phil also loved being a dad. Following Susan's death in 1996, Phil took on the role of both parents without hesitation. He never missed the opportunity to watch Christin march in the high school and college band, and even had UT football season tickets, despite the fact he was a diehard Red Raider. He had a standing Thursday night call with Laura and was known to drive to College Station just to have lunch in her section at Chili's. When they called, he always answered. He prioritized spending time with them, whether it was watching the latest romantic comedy or tagging along on a shopping trip. He was the most thoughtful gift giver and the best dad joke teller.
Phil's love of photography continued in retirement. His fine art photography was displayed in several galleries in Houston and Galveston giving him the perfect excuse to visit as many of our National Parks and scenic destinations as possible. He also put his skills to work as a real-estate photographer, working "just enough to keep himself up to date" with the latest cameras and lenses.
Phil was loved by family, friends and coworkers for his kindness, generosity, dependability and wry sense of humor. He had an almost perfect sense of direction (and a key map within arm's reach), which served him well as he chased breaking news all over Houston. Phil loved to use his offset smoker, and perfected the art of smoked meatloaf, to the delight of anyone lucky enough to be invited to sample it.
Phil was preceded in death by his parents and his first wife Susan. He is survived by his wife of 24 years, Lola, daughter Laura Jones and husband Mark, daughter Christin Petty and husband Robin, five grandchildren, his younger sister, Anita Walker and many nieces, nephews, and in-laws.
A Memorial Service will be held on Saturday, October 28 at 11 a.m. in the Founder's Chapel of Grace Presbyterian Church, 10221 Ella Lee Lane Houston, TX 77042.