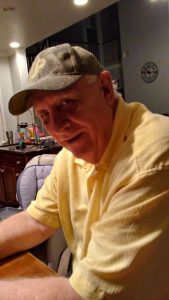 Philip Albert White, of League City, passed away at his home in League City, Texas on Wednesday, July 1, 2020 at the age of 72. He was born on July 29, 1947 in Houston, Texas to Grady and Willie Ruth White.
Philip enlisted in the United States Marine Corps in 1966 where he achieved the rank of sergeant and proudly earned his Rifle Expert Badge, Good Conduct Medal, and the National Defense Service Medal for service during the Vietnam War. Upon his honorable discharge, Philip enrolled at Lamar University in Beaumont, TX where he was a member of the AIChE and the engineering honor society, Tau Beta Pi. Philip graduated with a B.S. in Chemical Engineering and worked as a Chemical Engineer for 41 years until his retirement in 2015. In retirement, Philip spent his time pursuing his diverse interests, which included spending time with his grandchildren, story-telling, playing and listening to music, watching movies (especially Disney, Sci-Fi, and Fantasy), hunting, golf, surfing, motorcycles, fishing, driving, vacations, and airplanes. He was also a diverse foodie, freely moving between haute cuisine and corn dogs; between sushi and summer sausage.
Family and friends of Philip would describe him as warm, happy-go-lucky, a forgiving man who held no grudges, optimistic, humble, patriotic, intelligent, faithful and faith-filled.
Preceded in death by his son, Steven Philip White, parents, Grady and Willie Ruth White, and sister, Barbara White.
Philip is survived by his loving wife of 49 years, Josie Marie White; daughter Julie Truman and her husband, Michael Truman II; daughter Beth Bass and her husband, Billy Bass; and grandchildren Aspen Truman, Evy Truman, Isaac Bass, Cali Truman, Luke Bass, Hannah Bass, Cassidy Truman, and Mary-Elizabeth Truman;  sister Marilyn Guidry and her husband, John Guidry; and his niece and nephews.
A Ceremony will be announced at a later date with interment at Houston Veterans Cemetery, 10410 Veterans Memorial Dr., Houston, TX 77038
In lieu of flowers, memorials may be made to St. Mary's Catholic Church, 1612 E. Walker Street, League City, Texas, 77573.