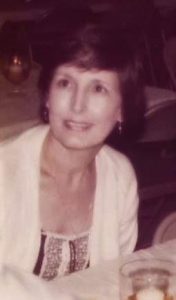 Petra TIjerina Campos passed away on September 19, 2019 at 7:00 AM at Clear Lake Regional Hospital, Webster, Texas with her oldest daughter Leticia Maddix by her side.
In February 2019 she had been diagnosed with pancreatic cancer, however she died of kidney failure due to chemotherapy treatments.
On June 29, 1935 Solidad Macias Tijerina and Eberardo Tijerina gave birth to a beautiful baby girl and named her Petra. She was the youngest of five children. The last to be laid to rest.
Petra met Arturo B. Campos and they were married in Laredo Texas. They had four children-Arturo Campos Junior, Leticia Maddix, Deanna Ranck and Yvette Brewer. They moved from San Antonio in 1963 because Arturo found employment with Johnson Space Center. Petra continue to live in the original house that they had purchased almost 56 years ago.
Petra was active in volunteering. She volunteered for many years with Interfaith Caring Ministries and spent many of her later years working for the Christian news station Daystar as a prayer partner and receptionist. Because of the many hours she had spent volunteering she received an award from the White House recognizing her many hours of service as a volunteer.
She enjoyed spending time with her family and friends as well as gardening. Petra enjoyed sharing her faith and helping out in whatever church she attended.
Her death is preceded by her husband Arturo B. Campos, her son Arturo Campos Jr., her granddaughter Emily Ranck as well as her parents, brothers, sisters and a host of loved ones.
She is survived by her three daughters-Leticia Maddix, Deanna Ranck and Yvette Brewer. Her two son-in-law's – James Maddix, Anthony Brewer. Her seven grandchildren -Jeremiah Maddix, Sarah Doxtader, Jennifer Bransford, Jonathan Campos, Julie Ranck, Anthony Brewer II and Kelly Ranck.
Her 10 great grandchildren Nicholas Ranck, Aidan Doxtader, Isabella Maddix, Riley Bransford, Alyssa Doxtader, Evan Bransford, Noah Maddix, Elise Bransford, Logan Kastner and Elijah Campos.
A Funeral Service will be held at 10:00 a.m. Monday, September 23, 2019 at Crowder Funeral Home in Dickinson, Texas with Pastor David Wright officiating.
A Private burial will be held at a later date.